How To Make Delicious Apple Cake
Indulge in the sweet, moist goodness of an apple cake that perfectly balances the tartness of fresh apples with the warmth of cinnamon.
This Apple Cake is super moist, really easy to make, and has just the right amount of spice. I was searching for a fast dessert and then remembered this recipe from my childhood. In no time, my batter was in the oven!
With my two awesome daughters, we baked up this amazing recipe. We've made it several times, and every time, it vanishes in just a few minutes!
When I was a kid, my grandma used to make this recipe for us. She even showed us how to bake it. We'd pluck apples from our orchard, and they made the dessert so delicious! It's honestly one of my all-time favorites, mainly because it's super easy to make. I'd always wonder how something so yummy could be so simple.
Whenever I bake this Apple Cake, it takes me back to those sweet memories. I hope it brings you as much happiness as it does for me.
---
My Latest Videos
---
This Apple Cake is a delectable treat that's sure to please your taste buds and delight your guests. Whether you're a seasoned baker or a beginner, this cake recipe is simple to follow, and the results are simply delicious. The warm aroma of freshly baked apples and a hint of cinnamon will fill your kitchen, creating an irresistible temptation.
What makes this apple cake extra special is its versatility. You can enjoy it as a sweet dessert, a cozy snack, or even a breakfast treat. It's the perfect way to use up those fall apples or to enjoy a taste of the season year-round. This homemade cake is a delightful addition to any occasion, from family gatherings to holiday celebrations.
So, why wait? Get your apron on and try out this fantastic cake recipe today. Your taste buds will thank you, and your guests will be asking for seconds!
Apple Cake Video
Why this recipe works
This Fantastic Apple Cake is so yummy and easy to make. Your whole family will love it! We use everyday ingredients you can get at any store, making it a kid-friendly recipe.
Ingredients to make Delicious Apple Cake
Eggs – They give your apple cake a lovely texture.
Sugar – Sweetens up the cake just right.
Sunflower Oil – Makes the cake moist and delicious.
Vanilla Extract – Adds a hint of vanilla flavor.
Milk – Keeps the cake nice and creamy.
Flour – This helps your cake rise.
Baking Powder – Makes the cake all fluffy.
Apples or Apple Jam – The star of the show! You can use fresh apples or apple jam for a fruity kick.
Sugar – Sweeten it up as much as you like.
Cinnamon – Gives that warm, cozy flavor.
Powdered Sugar – A sprinkle on top for some extra sweetness.
Substitutions
If you're looking to make a mouthwatering apple cake, but need some ingredient swaps, we've got you covered. Here are the key substitutions you can try:
Eggs: If you're out of eggs, you can try using egg substitutes like applesauce or yogurt.
Sugar: Feel free to adjust the sugar quantity to your taste. You can use brown sugar for a richer flavor.
Sunflower oil: You can swap this with other vegetable oils like canola or even melted butter.
Vanilla extract: Don't worry if you're out of vanilla extract. You can use vanilla essence or even almond extract for a different flavor.
Milk: You can use different types of milk, such as almond milk or soy milk, depending on your preference.
Flour: If you have dietary restrictions, consider using gluten-free flour for a gluten-free version.
Baking powder: No baking powder? Try a combination of baking soda and vinegar for leavening.
Apple Filling: If you don't have fresh apples, you can use apple jam or preserves as a substitute. Adjust the sugar to your liking and add a pinch of cinnamon for flavor.
Variations
When it comes to apple cake, there are plenty of ways to get creative and make your dessert extra special. Let's dive into some fantastic recipe variations that will leave your taste buds dancing!
Caramel Cake: Add a gooey layer of caramel for that sweet, indulgent twist.
Spiced Cake: Boost the flavor with warm spices like cinnamon and nutmeg.
Nutty Cake: Throw in some chopped nuts for a delightful crunch.
Gluten-Free Cake: Make it accessible for all with a gluten-free version.
Vegan Cake: Go plant-based with egg and dairy alternatives.
Upside-Down Cake: Flip things around and have the apples on top!
These recipe variations are sure to make your dessert table a hit. So, which one will you try first?
Give These a Try!
French Apple Cake, by Once Upon A Chef
Caramel Apple Upside Down Cake, by Sally's Baking Addiction
Maple, apple & pecan cake, by BBC Good Food
How to make this recipe
Step 1: Making the batter – Mix eggs and sugar until fluffy. Add oil and vanilla extract; mix well. Whisk flour and baking powder. Mix into the batter with milk until smooth.The dough should be runny but thicker than pancake batter.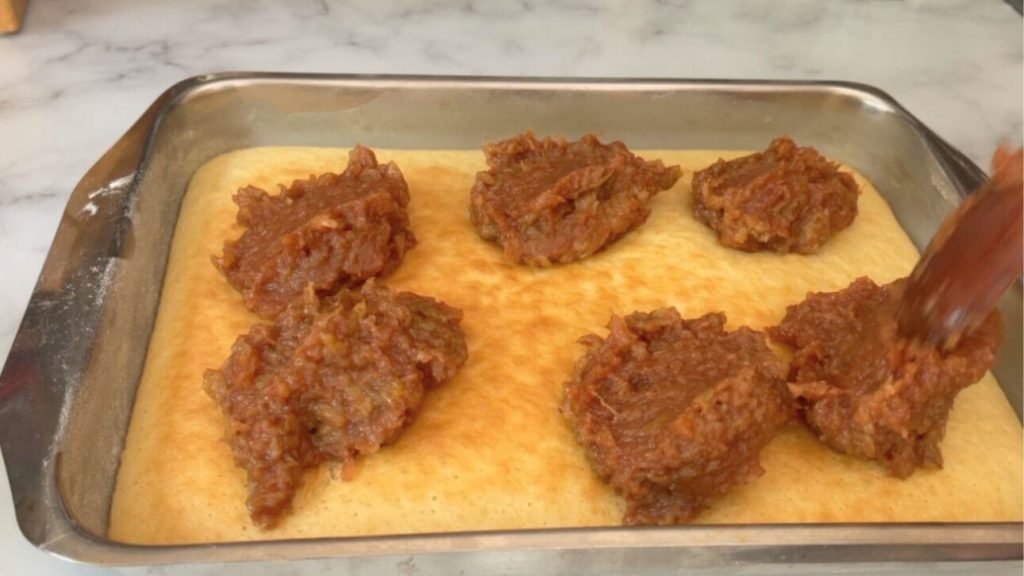 Step 2: Baking half of the mixture: Cook apples with sugar and cinnamon until reduced, then cool. Grease and flour a pan. Bake half of the batter for 10-12 minutes at 180°C. Spread apple filling over the baked batter.
Step 3: Adding the remaining batter – Add remaining batter over the apple layer and bake for 30 minutes until golden.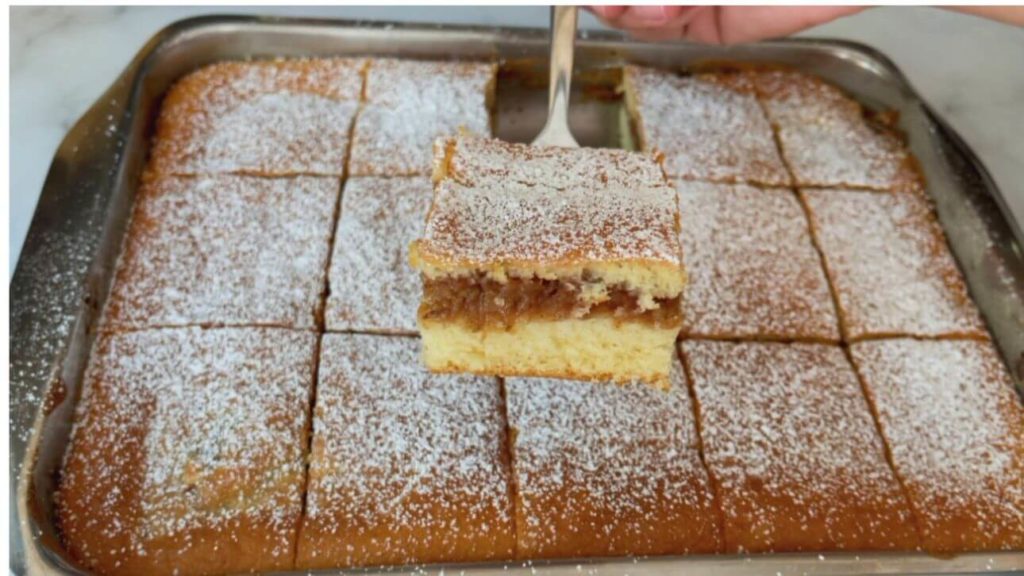 Step 4 : Serve – Dust with powdered sugar and slice when completely cool.
Leftover and storage
To keep your scrumptious cake at its best, follow these simple storage tips. After all, you want your cake to stay as tasty as when it first came out of the oven. 😉
Cool It Down: Let your apple cake cool to room temperature before storing.
Wrap It Well: Use plastic wrap or aluminum foil to tightly cover the cake. This keeps it moist and fresh.
Fridge or Room Temp: You can store your apple cake in the fridge for up to 2 days, but if you plan to finish it sooner, room temperature is fine.
Air-Tight Container: If you prefer, pop it in an airtight container to maintain its deliciousness.
Avoid Odors: Keep it away from strong-smelling foods in the fridge to prevent any flavor transfer.
By following these cake storage tips, you'll be savoring your cake for days to come!
Recipe FAQs
You might also like
Have you given the Delicious Apple Cake recipe a try? Share your experience by rating it ⭐️⭐️⭐️⭐️⭐️ and dropping a comment below. Your feedback is greatly appreciated and fuels my passion for creating recipes!
Subscribe to our newsletter!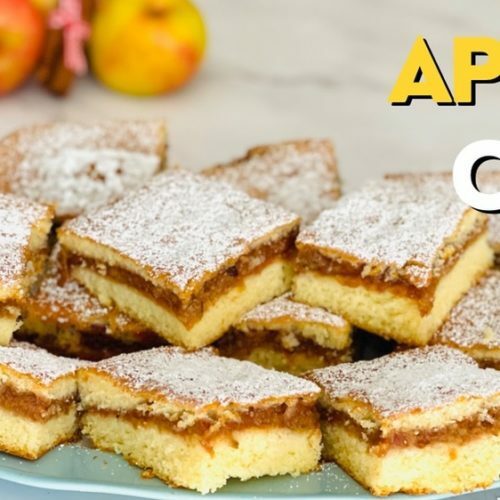 Apple Cake of my Childhood
Indulge in the perfect slice of Apple Cake, a delightful treat that's both sweet and comforting. Our Apple Cake recipe is easy to follow and brings out the delicious flavors of fresh apples. Enjoy a taste of nostalgia with every bite!
Equipment
Mixing bowl

Whisk or electric mixer

Measuring cups and spoons

Spatula or wooden spoon

Rectangle Cake Pan ( I used a 37x25cm pan)

Using a smaller pan will make the cake taller.

Apple corer and/or peeler (optional)

Knife

Cutting board

These are the basic utensils that would be required to make an apple cake. However, depending on the recipe and your personal preference, you may also need other utensils such as a grater or food processor to shred the apples or a pastry brush to brush the cake with glaze.
Ingredients
2

eggs

8

tbsp

sugar

11

tbsp

sunflower oil

1

tsp

vanilla extract

11

tbsp

milk

11

tbsp

flour

1

tbsp

baking powder
For the filling
1

kg

apples

or 250g apple jam (1 jar)

sugar to taste

1

tsp

cinnamon

Powdered sugar

to serve
Instructions
Mix the eggs and sugar until they are light and fluffy. Add in the oil and vanilla extract and mix well.

Whisk the flour with the baking powder, then incorporate it into the batter until smooth, alternating with the milk.

The dough should be runny when taken with a spoon, but be thicker than pancake dough.

First, give the apples a good wash. After that, peel off the skin and remove the core. Use a grater with big holes, like the wide side of a box grater, to grate them. Squeeze out any extra juice and then cook them in a shallow pan with some sugar and cinnamon until they get all thick and yummy. If you prefer, you can also cut the apples into small cubes or thin slices. Once they're cooked, let them cool down a bit.

Grease the pan with butter and sprinkle with flour. Pour half of the dough and bake for 10-12 minutes in a preheated oven at 180 degrees C.

When it's ready, remove the pan from the oven and spread the fresh apple filling or apple jam evenly over the baked batter.

Add the remaining batter over the apples and bake for another 30 minutes or until golden brown.

Lastly, when it is baked dust with powdered sugar and slice it when completely cool.

Enjoy!
Notes
Step-by-Step Guide: You'll discover an easy step-by-step guide with pictures on my blog to help you make this Apple Cake. The pictures make it simple to follow.
Substitutions & Twists: I've shared some cool ideas in the post above, so you can change the recipe to your taste. Storage: Your Apple Cake stays fresh in the fridge for up to 1 day. It's tastiest when it's warm, just out of the oven. Tip 1: Pick the Right Apples – Choose apples like Granny Smith or Gala for the best taste and texture. This must be made preferably using fresh apples, as they're healthier and give the cake a lighter taste. The apple jam can be a bit too sweet.  Tip 2: Season It Well – Give your cake mix a good stir with sugar and cinnamon for extra flavor. Tip 3: Bake it Right – Put the cake in a preheated oven at 350°F (180°C) for 30-40 minutes. It will be golden and delicious!
Some Recipe Inspiration