How To Make Devilled Eggs
A traditional Romanian recipe usually made over the holidays, or as an appetiser for a special occasion. They're guaranteed to impress anyone who tastes them!
A traditional Romanian recipe usually made over the holidays or as an appetiser for a special occasion this recipe combines egg yolks with paté or tuna, mayonnaise, mustard and a blob of butter. All the mixture goes into the halves of the boiled egg whites and make an amazingly delicious starter.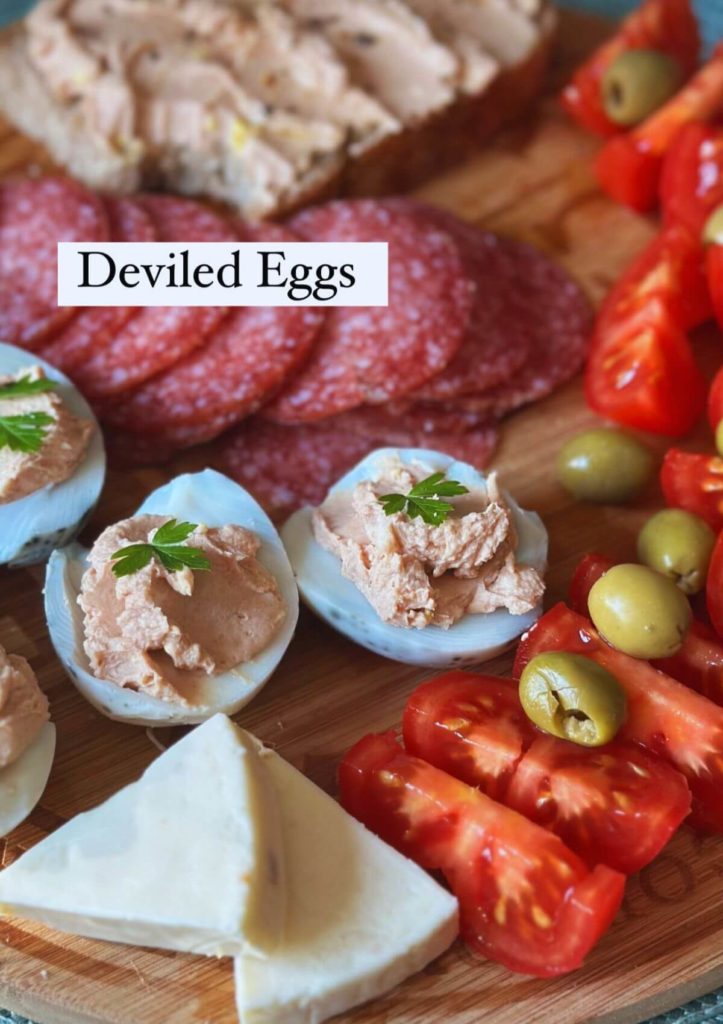 A Brief History
Deviled eggs date all the way back to the time of ancient Rome, when boiled eggs were served at the start of meals together with hot sauces. In the southern, Andalusian regions of Spain, stuffed eggs first appeared in the 13th century.
While Romania did not invent this recipe, the traditional recipe is a bit different from the classic ones, with a few different ingredients, such as paté.
Devilled eggs were popular in the UK around the same time the hostess trolley took over, but they are a staple of American entertainment culture. There isn't much that will make me squeeze a fancy-nozzled piping bag, but this recipe drove me to do it even though my version differs slightly. They are not difficult to create, despite the fact that they can be a little finicky, and they are a huge hit every time. And I don't mean ironic amusement; I mean true enjoyment. No matter how many I produce, I never have any leftover.
Devilled Eggs filled with paté. A filled egg recipe that is incredibly simple to make yet has a flavour you will enjoy. Simply follow the steps, and you will have a delectable appetiser. The following is what you must do:
How To Make Easy Devilled Eggs
Despite their intimidating name, these devilled eggs are truly a delicacy! They could be anything from a simple appetiser to a meal- I've found that they're great as breakfast! They're also perfect for a quick and healthy snack, since they contain loads of vitamins and proteins.
Equipment
1 deep pot

1 bowl
Ingredients
4

boiled eggs

hard

1

can of paté

120g of your choice, I used chicken paté

50

g

butter

1

tbsp

mustard

salt and pepper to taste
Instructions
Boil the eggs for 5–6 minutes in a deep pot, then remove. After boiling them, place them in cold water for a few minutes so they may cool down and be cleaned with ease.

Firstly, start by peeling the eggs, cutting them in half and removing the yolks, which you should reserve for later.

This mixture should go in every egg white half, finished off with a small parsley leaf on top as a final touch and a bit of colour. Arrange them on a nice platter and refrigerate.

This spread even goes well on a good piece of bread whenever you feel hungry. It's perfect for starting your day with a healthy breakfast too.

Serve with tomatoes sprinkled with a bit of salt and olive oil, and a piece of cheese. Anything goes with these eggs!

Hope you enjoyed this recipe, since I absolutely love it!
Notes
1. Canned Tuna instead of Pate – you can replace the pate with canned tuna using the same amount, 1 can. On top of the ingredients listed you can add some lemon juice and 1 tbsp of mayonnaise.  The quality of the tuna will influence the overall taste.  2. Parsley leaves – will add a new flavour to the entire bite, making it more fresh. 3. Pate – the recipe was made with Romanian pate, the brand is Bucegi and they come in 120g and 300g cans.