How to make Baked Potato Wedges
Homemade potato wedges are so much better that the store bought version. They're perfectly seasoned and go well with anything!
This post contains links to affiliate websites, such as Amazon, and we receive an affiliate commission for any purchases made by you using these links. We appreciate your support!
Homemade potato wedges are so much better that the store- bought version. They're perfectly seasoned and go well with anything!
Why this recipe works
Let's talk about why these amazing baked potatoes are just the best! They're crispy, yummy, and perfect for a family meal. I promise you, kids and adults will love them. You can find all the ingredients at your local store, and this recipe is super easy! Try it out, and you'll see why these baked wedges are a total winner!
Ingredients to make Baked Potato Wedges
Potatoes: The star of the show, providing that satisfying, starchy bite.
Olive Oil: To give your wedges that perfect golden crispiness.
Paprika: For a hint of smoky flavor and a touch of color.
Salt and Pepper: Seasoning staples that enhance the taste.
Garlic Powder: Adding a subtle, aromatic kick to the wedges.
Grated Parmesan: Optional but highly recommended for a cheesy, savory twist.
Substitutions
Potatoes – If you're looking for a twist, try sweet potatoes for a slightly sweet and nutritious alternative.
Olive Oil – Any vegetable oil like canola or sunflower oil will work just as well.
Paprika – To add a smoky flavor, you can substitute paprika with smoked paprika.
Salt and Pepper – Feel free to use your favorite seasoning blend or even a dash of cayenne pepper for a spicy kick.
Garlic Powder – Fresh minced garlic is a fantastic replacement for garlic powder, providing a more robust flavor.
Grated Parmesan – Swap it out for a sprinkle of nutritional yeast for a cheesy, vegan-friendly option.
Variations
Here are some scrumptious recipe variations to elevate this recipe:
Spicy Cajun Style: Add a kick to your wedges with a blend of Cajun spices, paprika, and cayenne pepper for a spicy twist.
Garlic Parmesan Delight: Toss your wedges in a mixture of garlic, Parmesan cheese, and fresh parsley for a savory and cheesy treat.
Rosemary and Olive Oil: Infuse your wedges with the aromatic flavor of rosemary and a drizzle of extra virgin olive oil for a Mediterranean flair.
Loaded Potato Wedges: Pile on the toppings like cheddar cheese, crispy bacon, sour cream, and chives for a loaded and indulgent version.
Sweet Potato Swap: Try sweet potato wedges for a healthier, slightly sweet alternative with a sprinkle of cinnamon and a dash of honey.
Greek-inspired Zest: Go Greek with lemon, oregano, and crumbled feta cheese for a fresh and zesty twist.
Buffalo-Style Heat: Coat your wedges in buffalo sauce and serve with a side of blue cheese dressing for a spicy and tangy delight.
Ranch and Bacon Bliss: Drizzle ranch dressing and sprinkle crumbled bacon for a creamy and smoky flavor explosion.
Chili Cheese Fries Fusion: Top your wedges with chili and melted cheese for a fusion of two classic comfort foods.
Truffle Parmesan Elegance: Elevate your wedges with truffle oil and grated Parmesan cheese for a gourmet touch.
Give These a Try!
Perfect Baked Potato, by Love and Lemons
Crispy Garlic Baked Potato Wedges, by Café Delites
30 incredible potato sides that'll have you drooling, by Taste
How to make this recipe
Step 1: Prepare and Season: Preheat your oven to Grill Mode, medium heat or level 3. Wash the potatoes, cut them into wedges, keeping the skin on. Place them in a bowl and season with olive oil, paprika, garlic powder, salt, and pepper.
Step 2: Arrange and Bake: Transfer the seasoned wedges to a pan lined with parchment paper, ensuring they are evenly spaced in rows. Place the pan on the top shelf of the oven. Bake for 20-30 minutes or until the wedges turn crunchy and golden.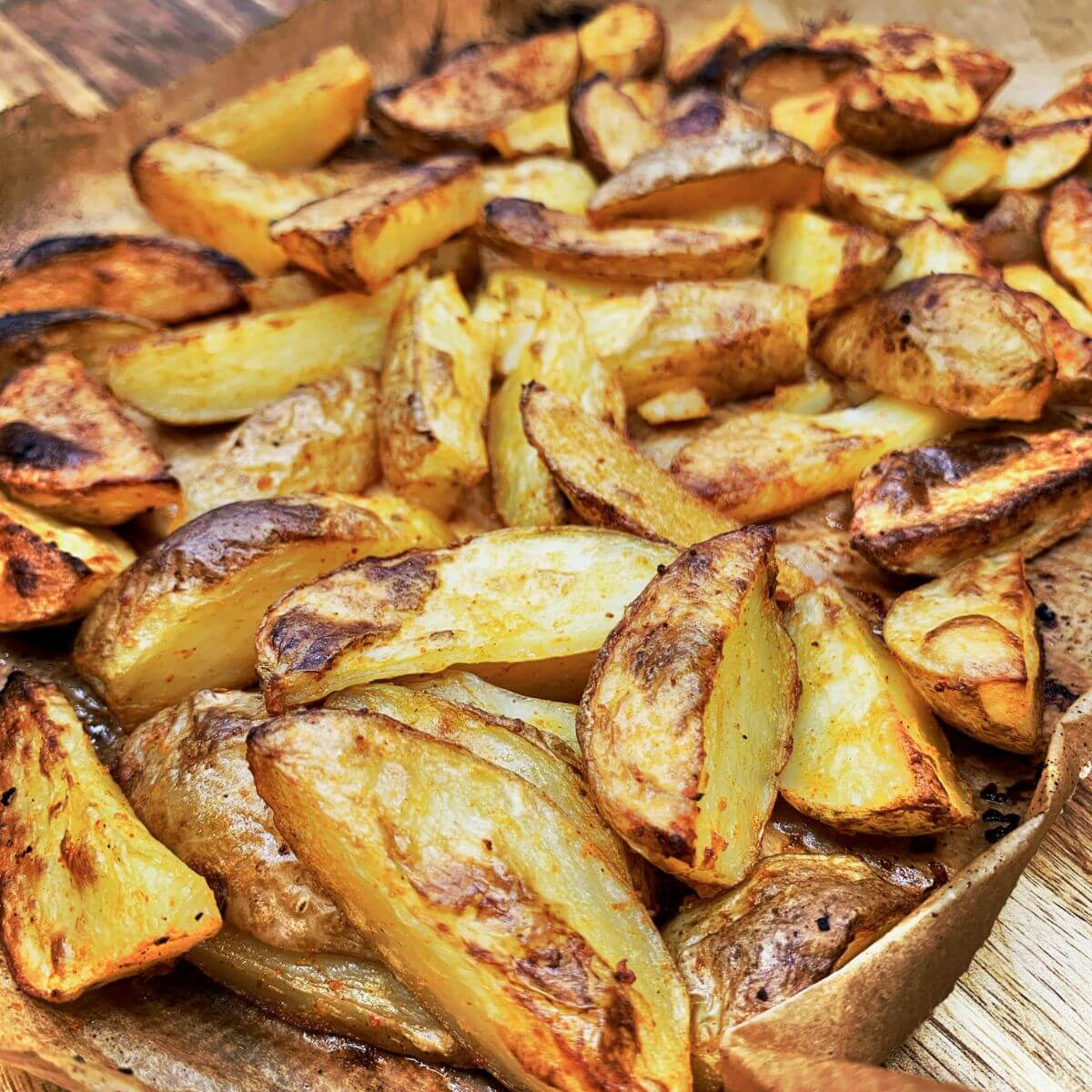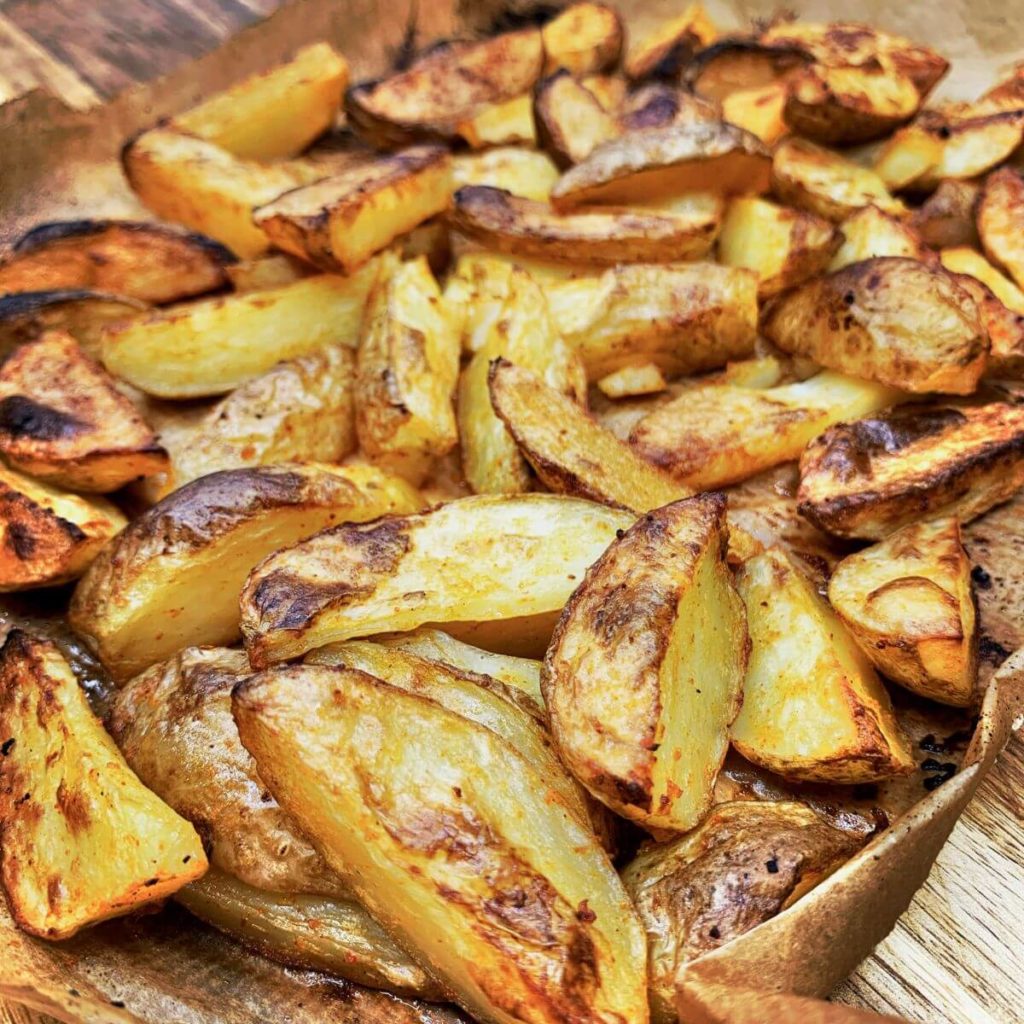 Step 3: Serve and Enjoy: Sprinkle with Parmesan cheese before serving. Enjoy this dish with a fresh salad or your favorite dip.
Leftovers
Baked potato wedges are typically at their best when fresh out of the oven. However, if you've made an excess, you can repurpose them on the same day or the next using these suggestions. Store your leftovers in an airtight container in the fridge.
1. Nachos:
Transform your leftover baked potato wedges into loaded nachos. Top them with shredded cheese, sour cream, and your favorite toppings for a scrumptious and indulgent snack.
2. Hash:
Create a hearty breakfast hash using leftover wedges. Simply chop them up and sauté with onions, bell peppers, and your choice of protein for a filling morning meal.
3. Salad:
Turn your wedges into a delicious salad by adding fresh greens, cherry tomatoes, crispy bacon bits, and a tangy dressing. A perfect way to enjoy leftovers in a healthier way.
4. Sandwich:
Make a hearty sandwich using leftover wedges as a filling. Layer them with deli meats, cheese, and your preferred condiments for a satisfying lunch.
5. Potato Wedge Quesadillas:
Create cheesy quesadillas with a twist by using wedges as one of the fillings. Add some diced onions and bell peppers for extra flavor.
6. Potatoes and Eggs Breakfast:
Combine leftover potato wedges with scrambled or fried eggs for a hearty breakfast. Season it well and serve with a side of toast for a complete morning meal.
7. Potato Wedge Pizza Topping:
Chop up your wedges and use them as a unique pizza topping. Layer them on your pizza with cheese and other favorite ingredients for a tasty twist.
Recipe FAQs
Here are some suggestions for serving this recipe:
Looking for more ? Check out +20 Best Mains Easy Recipes !
You Might Also Like …
Have you given the Baked Potato Wedges recipe a try? Share your experience by rating it ⭐️⭐️⭐️⭐️⭐️ and dropping a comment below. Your feedback is greatly appreciated and fuels my passion for creating recipes!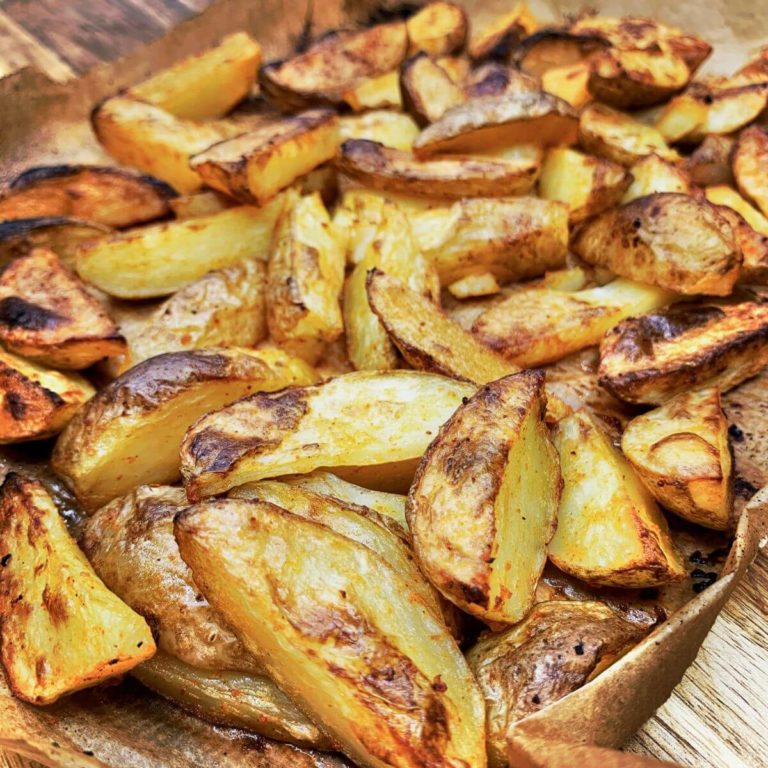 Baked Potato Wedges
This is an easy, quick recipe that doesn't require any cooking skill at all! If you're feeling hungry but aren't in the mood to make a complicated meal, then this is for you. Just chop up some potatoes, pop them in the oven, and voila- some wedges that make you feel like you're in a restaurant.
Equipment
1 pan

1 bowl

1 wooden spoon

1 parchment paper
Ingredients
4-5

potatoes

6

tbsp

olive oil

paprika

salt

pepper

garlic powder

*use your favourite seasonings if you prefer

50

g

grated parmesan
Instructions
Preheat your oven to Grill Mode, medium heat or level 3.

Wash the potatoes, cut them in big chunks, in quarters or thinner depending on how you like them. However, try to make sure that they are all the same size. Leave the skin on- there is no need to peel them.

Place the potatoes in a bowl and sprinkle with olive oil, paprika, garlic powder, salt & pepper.

Transfer in a pan lined with parchment paper. Arrange them in even columns across the pan so they don't stay on top of each other.

Place the pan on top shelf of the oven. Bake for 20-30 minutes or until crunchy and golden.

Sprinkle with parmesan cheese to serve.

Have it with fresh salad or on their own with your favourite dip. The possibilities are endless!
Notes
Step-by-Step Guide: You'll find a helpful step-by-step guide with photos to make this recipe on my blog. The photos make it easy to follow along.
Substitutions & Twists: I've listed some great substitutions and variations in the post above, so you can customize the dish to your liking.
Storage: These potato wedges store well in the fridge for up to 1 day. They taste best when just taken out from the oven.
Tip 1: Choose the Right Potatoes – Select starchy potatoes like russet or Yukon Gold for the best texture and flavor. 
Tip 2: Properly Season and Coat– Thoroughly toss your wedges in olive oil and your favorite seasonings, making sure they are well-coated for delicious flavor.
Tip 3: Evenly Space on Baking Sheet – Arrange the wedges on a baking sheet with enough space between them to ensure they crisp up evenly during baking.