How to make Lemon Chicken
Invigorate your taste buds with our zesty Lemon Chicken. A burst of citrusy delight in every bite. Easy recipe for a flavorful feast!
This post contains links to affiliate websites, such as Amazon, and we receive an affiliate commission for any purchases made by you using these links. We appreciate your support!
You have to try this Easy Lemon Chicken, it's very easy to make, very flavorful and you'll only need a few basic ingredients. This tender chicken with fresh lemon sauce goes well with steamed rice, quinoa, on its own, or paired with a good piece of bread and even pasta.
A comforting meal, perfect for a family dinner or a quick lunch, this easy-to-follow recipe will quickly become a favourite. The smell of lemons and herbs will fill your kitchen and create the perfect environment for a cosy meal at the end of your day.
OUR LATEST VIDEOS
VIDEO: Watch us make the recipe
Why this recipe works
This Lemon Chicken Recipe works perfectly when you're in the mood for something that tastes good, is nutritious and easy to prepare. The recipe requires simple ingredients, that you can find at your nearby store, and cooking skills at a beginner's level. It's the perfect comfort food that combines zesty lemon, and tender chicken into a meal that your taste buds will enjoy!
Ingredients to make Lemon Chicken
Chicken breast: Choose a good quality chicken breast, organic or corn-fed, for the best results and taste.
Olive oil: Only buy olive oil that is packed in dark green bottles, as this prevents the oil from deteriorating and losing its nutrients.
Chopped parsley: I love this herb, as it adds some freshness and colour to the dish. Lately, I have made a habit of buying 2 or 3 bunches of parsley, removing the thick stems, washing them thoroughly, chopping them and storing them in the freezer in small zip-lock bags. It is a very useful trick so that you don't run out of fresh herbs.
Sliced Lemon (optional): I used thinly sliced lemons for the aesthetic of the dish before serving it.
INGREDIENTS FOR LEMON BUTTER SAUCE:
Butter: It is used to balance the acidity of the lemon and adds richness and a creamy texture to the sauce.
Garlic cloves: Can be added in slices or grated, but, either way, this ingredient will add a savoury and aromatic element to the sauce, complimenting the tangy lemon.
Lemon juice: A few lemon drops will add a lot of freshness to the sauce.
Chicken broth: Made with 1/2 a chicken stock cube dissolved in 1 cup hot water, making the sauce richer in flavour.
Flour: In this recipe, I used flour but cornflour works as well. I tend to add a tablespoon to all my sauces and stews as I don't like watery textures in my dishes.
Ground pepper: A basic seasoning which brings a bit of heat to the dish, providing a gentle kick.
Substitutions
Chicken Breast – This is ideal for this recipe but boneless chicken thighs work as well. You can even cut the meat into smaller pieces so it's easier when serving the dish.
Garlic Cloves – Fresh garlic is always the best in any recipe, as the flavour is much stronger than other substitutions such as garlic powder.
Ground pepper – This can be replaced by chilli powder or flakes.
Flour – Cornflour is often used to thicken sauces, so use the same amount.
Parsley – A mixture of fresh (or dry) thyme and rosemary can be used instead, enhancing the herbal notes in this recipe.
Variations
A Mediterranean Twist – You can add olives, capers and cherry tomatoes to the recipe and serve it over couscous or quinoa for a Mediterranean-inspired flavour.
Dijon Flavour – By adding Dijon Mustard to the sauce, you will get a mild spicy kick.
How to make this recipe
Marinate and tenderise the meat: Start the recipe by preparing the meat. Take the chicken breast and add it to a bowl or a glass container.
Sprinkle olive oil, salt and pepper, squeeze half a lemon and let the juice cover the meat. Make sure it is covered with all the marinade ingredients, place cling film or a lid on top and refrigerate for 30 minutes.
After that, take a piece of chicken breast and place it between two layers of cling film. Tenderise the meat using a meat mallet- a couple of pounds are enough. Then, set aside in the same bowl. Repeat the process with the other pieces.
Cooking the meat: Place a deep pan on medium heat, add the olive oil and meat, then cook with the lid on until the chicken is tender and golden brown. Add half a cup of water when the liquid evaporates, so the meat will be fully cooked through and moist.
Make the sauce: Once the chicken is cooked, transfer it from the pan to a plate, and add all the sauce ingredients to the pan: butter, minced garlic cloves, lemon juice, chicken broth, flour, ground pepper and salt. Give it a good stir so the flour is completely dissolved, I recommend using a balloon whisk. Add the meat back to the pan and cook for a couple of minutes until the sauce thickens.
Garnish: Once the sauce is thickened, remove the pan from the stove and set it aside. Season with chopped fresh parsley, garnish with some lemon slices and serve with your desired side: couscous, brown rice, quinoa, freshly baked bread to dip in the sauce, pasta, etc.
A full list of ingredients and instructions can be found in the recipe card below.
Leftovers
Refrigerate: Store any lemon chicken leftovers in an airtight container for up to 3 days to preserve it in the best condition. When reheating it, pop it in the microwave for up to 1 minute or use a small pan on low-medium heat.
Freezing: If you've made a larger batch, consider freezing individual portions and labelling them with the date for easy tracking.
Recipe FAQs
Side dishes you can pair your Lemon Chicken with:
More Easy Chicken Recipes
---
Did you make this Lemon Chicken recipe? Share your experience by rating it ⭐️⭐️⭐️⭐️⭐️ and dropping a comment below. Your feedback is greatly appreciated and fuels my passion for creating recipes!
Looking for more? Check out +20 Best Mains Easy Recipes!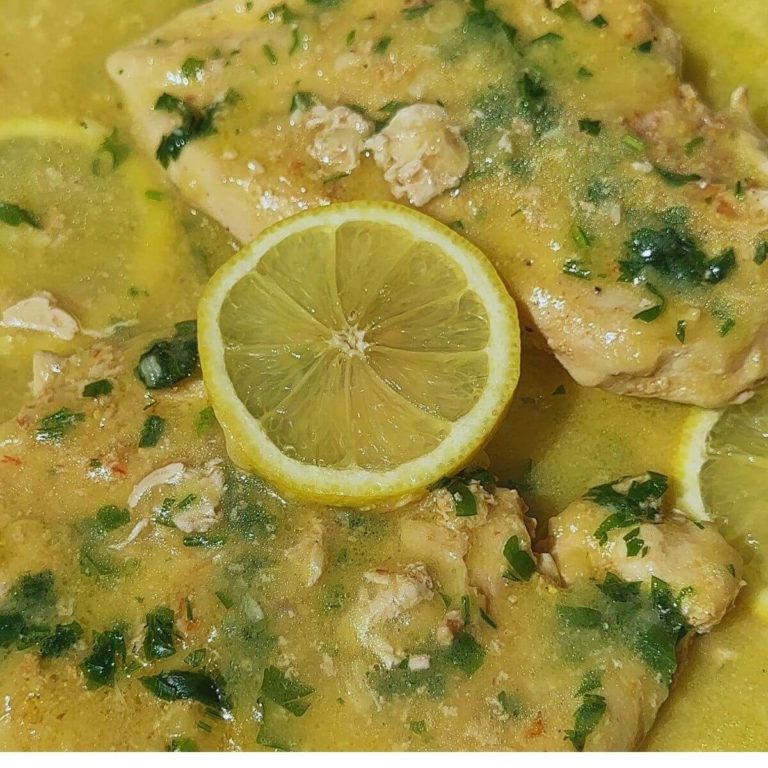 Quick and Easy Lemon Chicken Recipe
Make delicious lemon chicken by cooking chicken with lemon juice, garlic, and herbs. It's zesty, tangy, and ready in no time!
Equipment
Cutting board

Knife

Frying Pan or Skillet

Spatula or Tongs

Stove
Ingredients
2-3

large chicken breasts

tenderised

2 tablespoons olive oil

for sautéing

2 tablespoons chopped parsley

optional, for garnish

1/2 lemon

sliced (optional, for garnish)
Ingredients for Lemon Butter Sauce:
50g unsalted butter

2 garlic cloves

minced

1/4 cup lemon juice

1 cup chicken broth

made with 1/2 chicken stock cube dissolved in 1 cup hot water

1 tablespoon flour

1/2 teaspoon ground black pepper

Salt to taste
Instructions
Start by adding the chicken breast to a bowl. Sprinkle with some olive oil and lemon juice, and season with salt and pepper. Cover with cling film and place it in the refrigerator for 30 minutes.

Once marinated, add each piece of chicken between two layers of cling film and, using a meat mallet, slightly tenderise it.

Heat the olive oil in a large skillet over medium-high heat. Once the oil is hot, add the chicken breasts and cook with the lid on for about 10 minutes on each side, or until they're fully cooked and have a golden-brown exterior. Add a splash of water if the liquid evaporates too quickly.

Once the chicken is cooked, remove the chicken from the pan and set it aside on a plate.

In the same pan, add the butter, minced garlic, lemon juice, chicken broth, and flour. Mix until a creamy sauce forms, without lumps. Use a balloon whisk if available, otherwise, a wooden spoon will work.

Cook the sauce over low-medium heat. If the sauce is too thick, add a splash of water. If it's too thin, add a bit more flour.

Once the sauce thickens, add the cooked chicken back into the pan. Garnish with chopped parsley and decorate with sliced lemon.

Serve the Lemon Chicken hot, alongside your favourite side dishes like rice, pasta, or vegetables.

Enjoy your delicious homemade Lemon Chicken!

Note: Adjust the amount of lemon juice and black pepper in the sauce according to your taste preferences.
Notes
Step-by-Step Guide: You'll find a helpful step-by-step guide with photos to make this recipe on my blog. The photos make it easier to follow along.
Substitutions & Twists: I've listed some great substitutions and variations in the post above, so you can customize the dish to your liking.
Storage: This Lemon Chicken Recipe can be stored in the refrigerator in an airtight container for up to 3 days. 
Tip 1:
Marinate the chicken – for at least 30 minutes, this will make the meat more tender and juicy. 
Tip 2: Mix the sauce – Use a balloon whisk when stirring the sauce ingredients, the flour will be easily dissolved and the sauce will be very smooth. 
Tip 3: Remove the pan from the heat – When the Lemon Chicken is finished cooking, remove the pan from the heat, this way you'll avoid reducing the sauce and making it thicker than you want it or even burning it.