How to make Prawn and Pea Risotto
Indulge in a delectable delight with our prawns and pea risotto. Creamy Arborio rice paired with succulent prawns and vibrant peas. Pure bliss!
This post contains links to affiliate websites, such as Amazon, and we receive an affiliate commission for any purchases made by you using these links. We appreciate your support!
Presenting a tasty Prawn and Pea Risotto! This dish is super easy to prepare, bursting with deliciousness, and it's suitable for those who need gluten-free and vegan options. It's an excellent choice for a speedy and nutritious dinner with minimal ingredients and effort. The best thing is, it's super versatile. You can enjoy it as your main meal, a side dish, or save some for yummy lunch sandwiches or wraps the next day. So, if you're looking for a scrumptious and healthy meal, this Prawn and Pea Risotto has got you covered!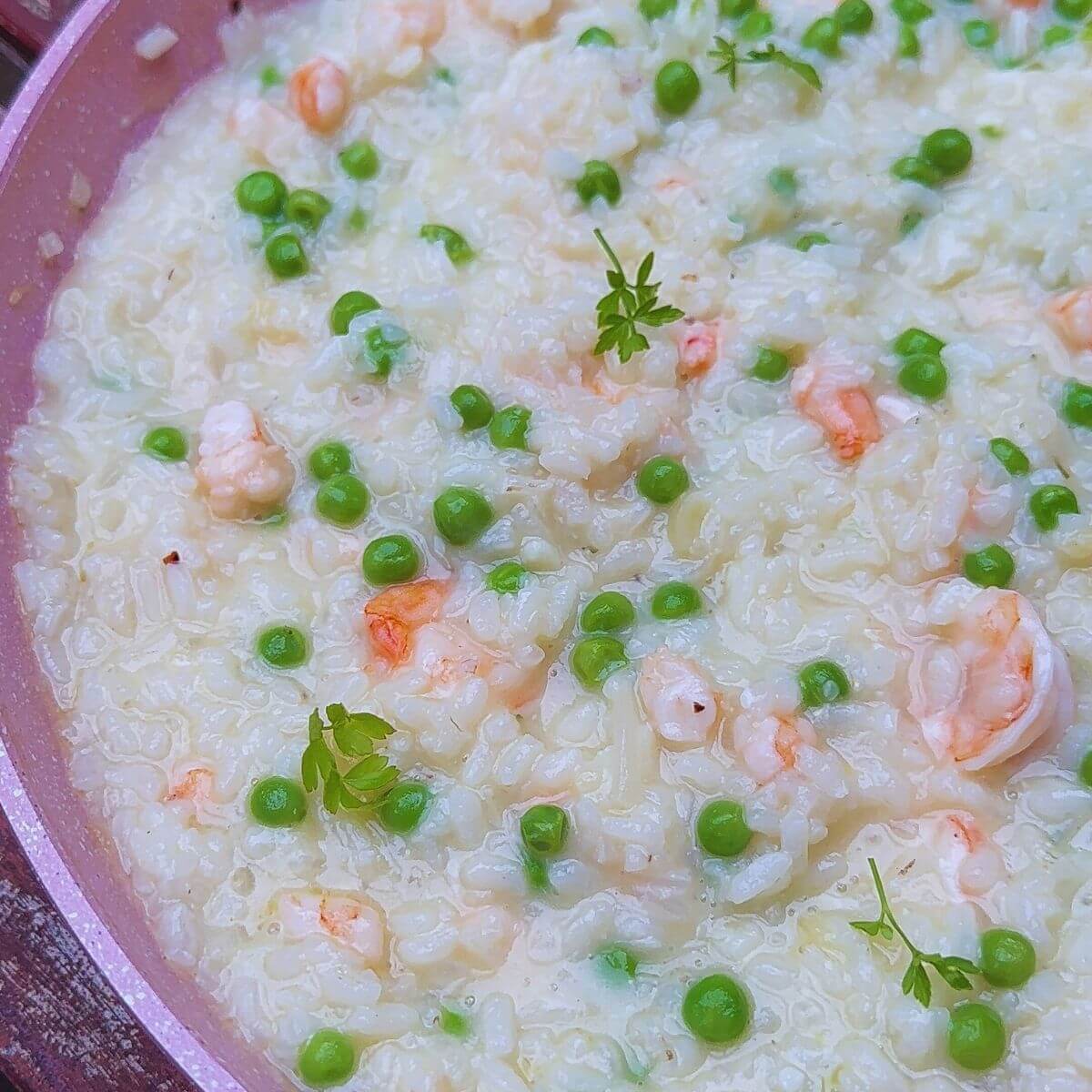 Subscribe to our newsletter!
Why this recipe works
This Tasty Prawn and Pea Risotto is not just yummy; it's also easy to make. This dish works great for families, and even kids will love it! With basic ingredients available at any store, I'm sure you'll adore this recipe.
Prawns are the star here, bringing a sea-inspired taste to the dish. Peas add a pop of color and a touch of freshness.
To make it, start by cooking the prawns and then add the peas. Stir in some rice to make it all creamy and delicious. Season it with a bit of salt and pepper for extra flavor.
And there you have it, a simple, scrumptious meal your whole family will enjoy! It's perfect for a quick dinner or lunch. Give it a try!
Ingredients to make this Risotto Recipe
Arborio Rice – The foundation of our delicious dish, Arborio rice creates a creamy texture in our prawn risotto.
King Prawns – Opt for sustainably sourced prawns if possible, for an eco-friendly choice. These plump, juicy prawns will be the stars of our recipe.
Onion – Finely chopped to add a sweet and savory note to our dish.
White Wine – A splash of white wine for a touch of sophistication and depth of flavor.
Peas – Whether you use fresh or frozen, these vibrant peas bring a burst of color and freshness to our prawn risotto.
Butter – A touch of butter makes our dish rich and luscious, enhancing the creaminess of the rice.
Parmesan – Grated Parmesan cheese adds a nutty, salty kick to our risotto. It's optional but highly recommended for the best flavor.
Chicken Stock – The essential liquid that infuses our dish with savory goodness and keeps our rice moist and flavorful.
Garlic – Minced garlic cloves provide a delightful hint of spice and an extra layer of flavor.
See recipe card for full information on ingredients and quantities.
Substitutions
Arborio Rice – If you don't have Arborio rice, you can swap it with any short-grain rice for your creamy risotto.
King Prawns – For a different twist, you can replace prawns with sustainably sourced scallops or even chunks of white fish.
Peas – Whether you have frozen or fresh peas, both work splendidly to add a burst of green to your dish.
Butter – To make the recipe dairy-free, switch butter with a vegan butter alternative.
Grated Parmesan – If you're dairy-sensitive, try using a dairy-free parmesan, or nutritional yeast for that cheesy flavor.
Chicken Stock – For a vegetarian twist, use vegetable broth instead of chicken stock.
Garlic Cloves – Garlic powder can be a handy replacement if you don't have fresh garlic on hand.
Variations
Lemon Twist : Squeeze some fresh lemon juice on your risotto. It adds a zesty flavor that's so good.
Spicy Prawn and Pea Risotto: Sprinkle a little chili powder or hot sauce for a spicy kick. Not too much if you don't like too spicy.
Mushroom Magic : Add sautéed mushrooms. They go great with prawns and peas.
How to make Creamy Prawn and Pea Risotto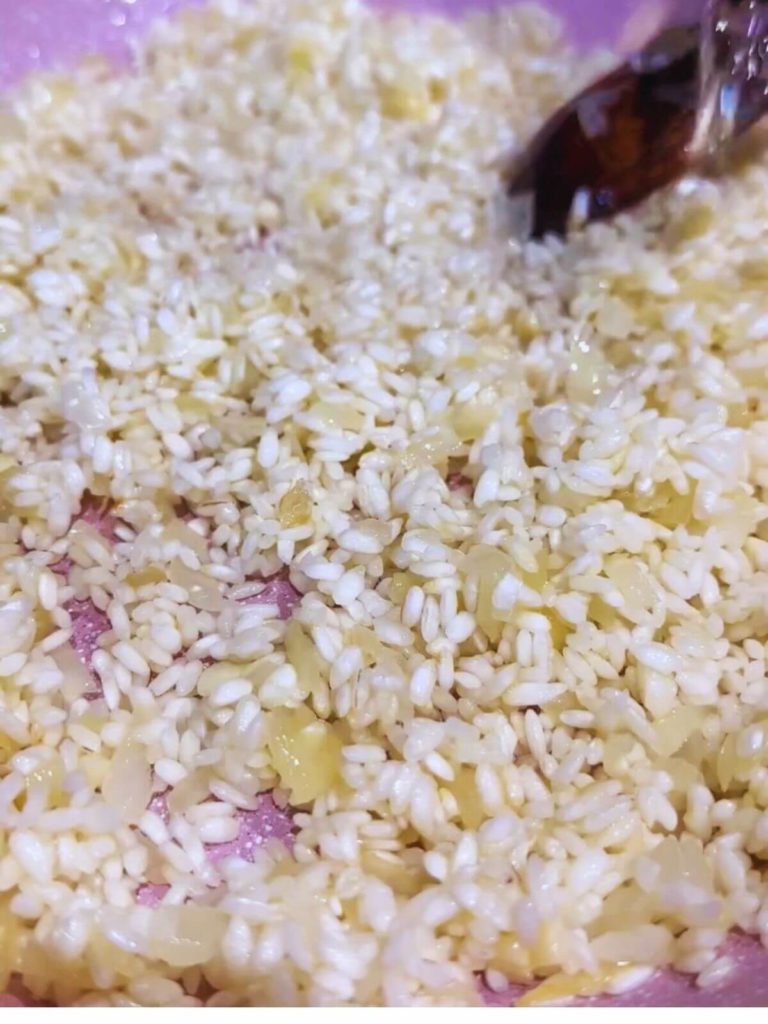 STEP 1: Cook the Rice: In a big pan, heat olive oil, add onions and garlic. Cook until the onions look clear. Then, add Arborio rice and stir for 2 minutes. Pour in white wine and stir until it's gone.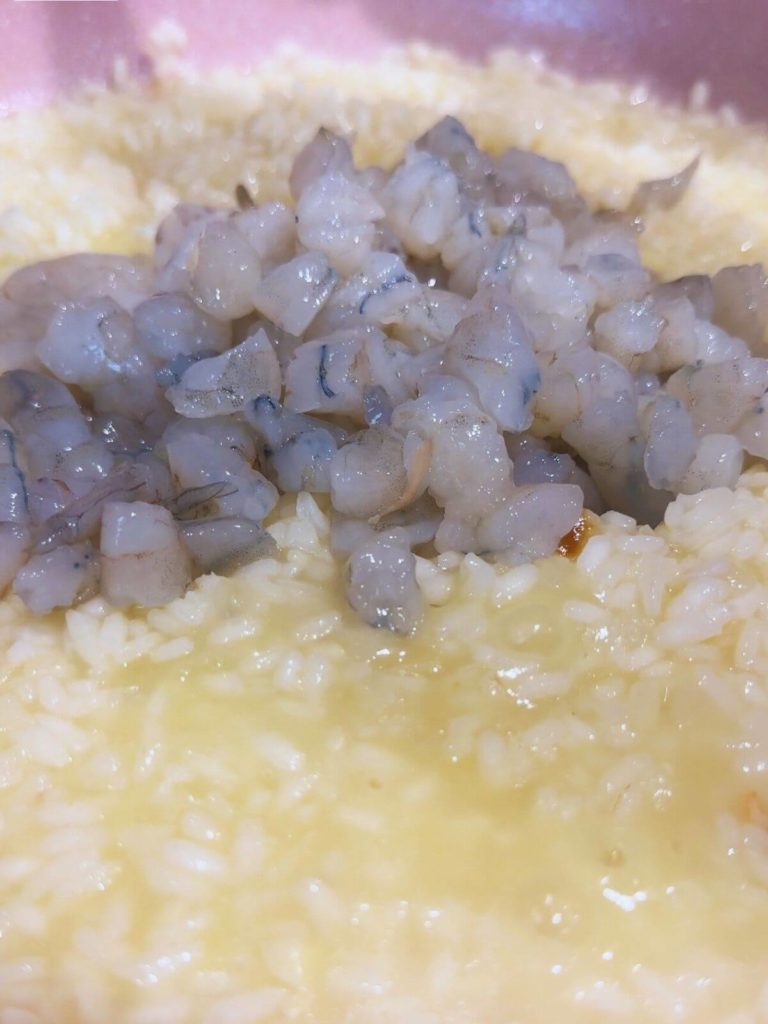 STEP 2: Add Stock and Prawns: Lower the heat. Add a bit of the warm chicken stock at a time to the rice, stirring often. After 10 minutes, put prawns in. Keep adding stock until the rice is al dente.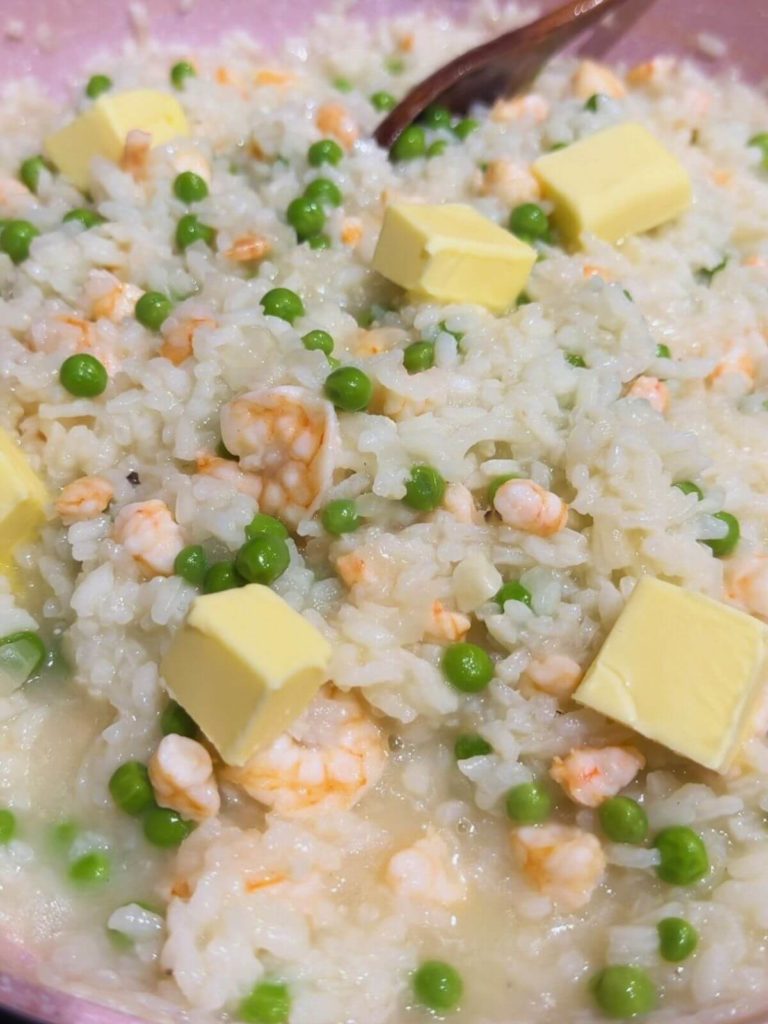 STEP 3: Finish: After 5 more minutes, add peas. When everything is cooked, turn off the heat. Put in butter, parmesan, and parsley. Let it sit for a minute.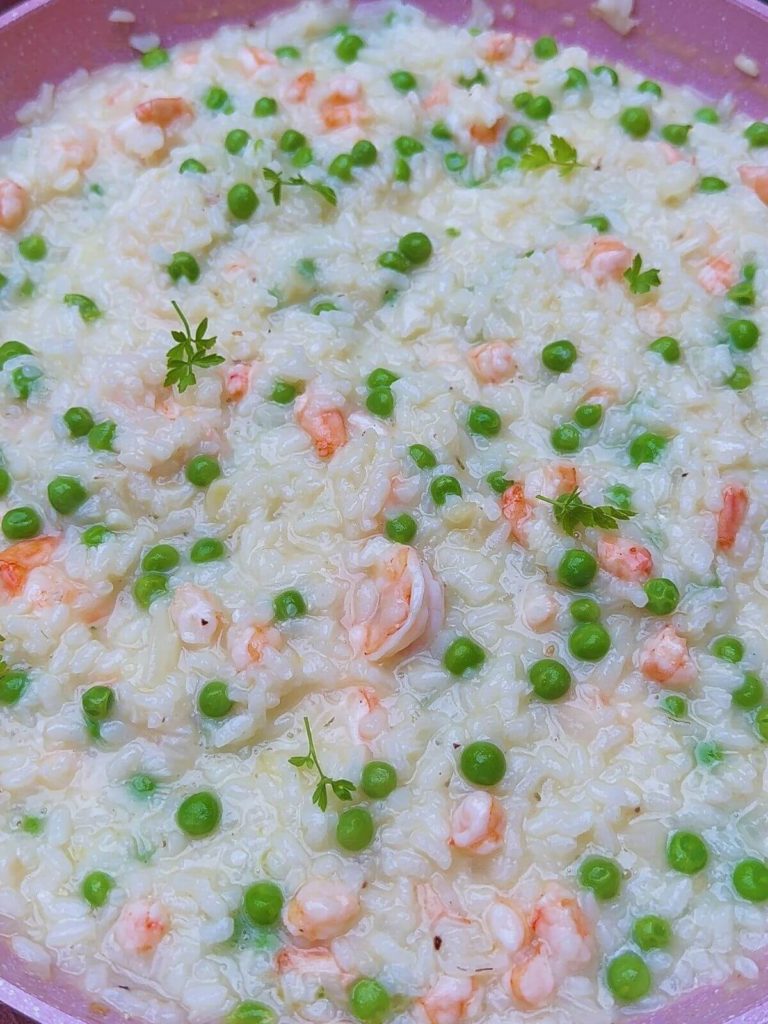 STEP 4: Serve with more parmesan, a pinch of chili flakes (if you like spicy), and extra parsley on top.
Leftovers
The best thing about this King Prawn and Pea Risotto is not just how yummy it is but also how you can use the leftovers. You can keep them for another day as a tasty side dish or take it to school or work for lunch. It's also great in your sandwiches or wraps. Just put the extras in a container, close it tight, and keep it in the fridge for 3 days. If you want to save it for later, freeze it. Just let it cool, put it in a container that seals well, and freeze it. When you're ready to eat, let it thaw, then heat it in the oven until it's super hot.
Recipe FAQs
More Risotto Ideas
Easy Risotto Recipe , by Jamie Oliver
Risotto Recipes, on BBC Good Food
24 Risotto Recipes to Make Again and Again, by Food & Wine
Looking for more ? Check out +20 Best Mains Easy Recipes !
Have you given the Prawn and Pea Risotto recipe a try? Share your experience by rating it ⭐️⭐️⭐️⭐️⭐️ and dropping a comment below. Your feedback is greatly appreciated and fuels my passion for creating recipes!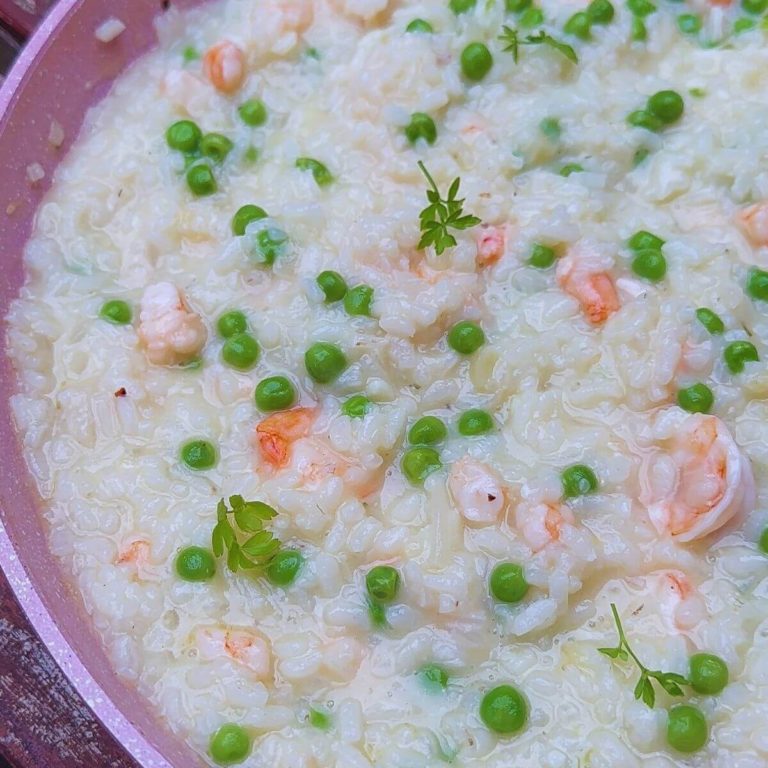 How to make Prawn and Pea Risotto
Delicious King Prawn and Pea Risotto – a tasty, creamy dish with juicy prawns and green peas. Easy to make and perfect for dinner. Try this simple recipe today and enjoy a mouthwatering meal!
Equipment
Saucepan

Large, deep skillet or wide pot

Stirring utensil

Knife

Cutting board

Grater
Ingredients
350

g

Arborio rice

250

g

king prawns

caught from sustainable sources if possible

1

onion

finely chopped

50

ml

white wine

50

g

frozen or fresh peas

50

g

butter

100

g

grated Parmesan

1

litre chicken stock

3

garlic cloves

minced

3

tablespoons

olive oil

1

teaspoon

pepper

1

teaspoon

salt
To serve
grated parmesan

chilly flakes

fresh parsley
Instructions
Start by heating the chicken stock in a saucepan and keep it warm on low heat.

In a large, deep skillet or a wide pot, heat the olive oil over medium heat. Add the chopped onion and minced garlic cloves. Sauté them until the onion becomes translucent and fragrant.

Add the Arborio rice to the skillet and stir it well to coat each grain with the oil. Toast the rice for about 2 minutes until it starts to turn slightly translucent at the edges.

Pour in the white wine and stir continuously until it evaporates completely.

Reduce the heat to medium-low. Begin adding the warm chicken stock to the skillet, one ladleful at a time. Stir gently and allow the rice to absorb the liquid before adding more. Continue this process for about 15-20 minutes or until the rice is al dente. Make sure to stir frequently to prevent sticking.

To prepare the prawns, make incisions on each one to create a butterfly-like opening. You'll need approximately 6-8 prawns for this, while the remaining prawns should be cut into small pieces. Once ready, add the prawns to the pan when the rice is halfway through the cooking process, which usually takes about 10 minutes.

Within the final five minutes, include either frozen or fresh peas into the pan, ensuring occasional stirring while cooking. Once all the moisture is absorbed, turn off the heat and introduce butter and grated parmesan into the pan. Stir thoroughly to incorporate all the ingredients. Finally, sprinkle freshly chopped parsley on top.

Remove the skillet from the heat and let it rest for a minute or two. This will help the risotto to settle.

Serve the King Prawn Risotto hot. Garnish each serving with additional grated Parmesan, a sprinkle of chili flakes (if desired), and some fresh parsley for added freshness.
Notes
Step-by-Step Pictures: Look at the pictures in my blog post. They'll show you how to make this King Prawn and Pea Risotto. It's like having a cooking buddy right there with you! Swap & Change: You can find ideas for different ingredients and twists in the post above. Get creative and make this recipe your own! Storing: If you have leftovers, keep them in a sealed container in the fridge. Enjoy them within 3 days. Freezing: Want to save some for later? Cool it down, pop it in an airtight container, and freeze it. When you're ready to eat, just thaw and reheat. Top Trick 1: When cooking, stir gently. It helps your risotto turn out super creamy. Top Trick 2: Use fresh prawns for the best flavor. They're the key to this dish tasting amazing. Top Trick 3: Be patient when adding the stock. Pour a bit at a time and stir until it's absorbed. This makes your risotto perfect!