How To Make a Vegan, No Bake Dessert!
This dessert is ready in five minutes. The easiest and healthiest oatmeal cake.
I love vegan recipes very much. Delicious vegan homemade sweets and there are loads of them on my channel. And this three-ingredient chocolate cake recipe is delicious and gluten-free, egg-free, dairy-free, and baked-free. 
This post contains links to affiliate websites, such as Amazon, and we receive an affiliate commission for any purchases made by you using these links. We appreciate your support!
Oatmeal, cocoa, and bananas no-bake dessert is a delicious and healthy treat that is easy to prepare and requires no baking. This dessert is perfect for those who are looking for a healthy snack or a guilt-free dessert option.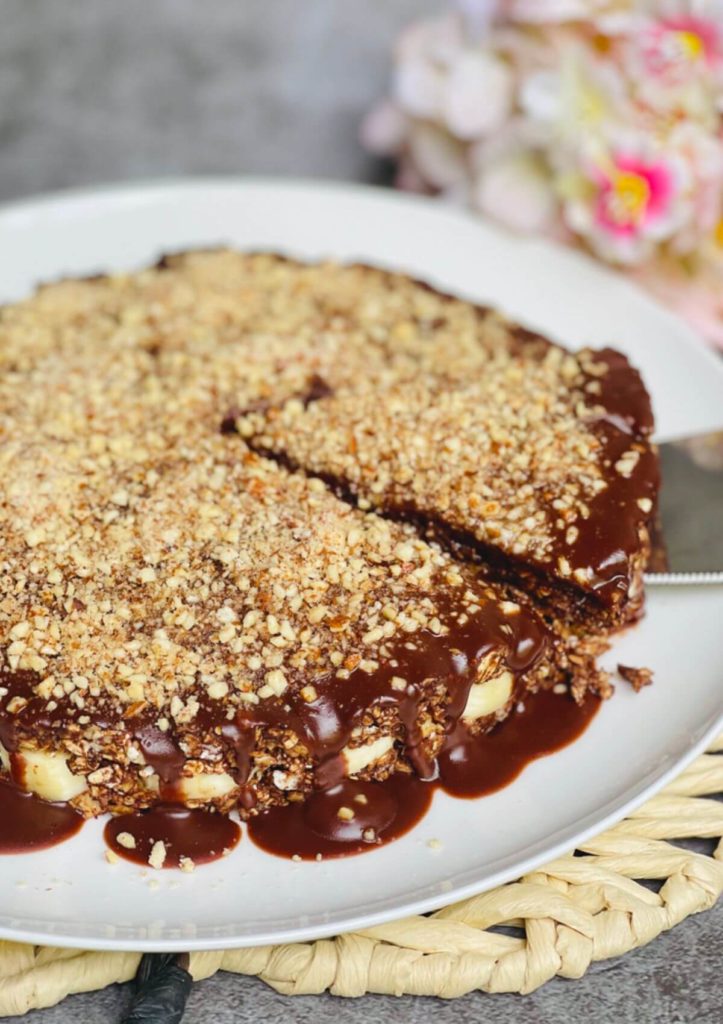 Why this recipe works
This No-Bake Banana Cake is a treat for your taste buds! It's comforting and oh-so-easy to make. The best part? It's a recipe that the whole family can enjoy together. With simple ingredients you can grab from your local store, this recipe is a winner. You'll fall in love with the deliciousness of this banana cake, and it's super healthy too. So, why does this recipe work? Because it's simple, yummy, and perfect for everyone in the family!
Ingredients to make No Bake Banana Cake
Ripe bananas: The star of this sweet treat, ripe bananas bring natural sweetness and flavor.
Ground cinnamon : For a hint of warm and comforting spice.
Cocoa: Adds rich, chocolatey goodness to the cake.
Oatmeal: Brings texture and heartiness to the dessert.
Chocolate without sugar: Satisfy your chocolate cravings without the added sugar.
Sunflower oil: Provides moisture and a smooth consistency.
Chopped nuts: A crunchy and nutty topping to complete your no-bake creation.
Substitutions
Ripe Bananas – If you don't have ripe bananas, you can use mashed avocados for a creamy texture and natural sweetness.
Ground Cinnamon – If you're not a fan of cinnamon, you can skip it or try a pinch of nutmeg for a different warm flavor.
Cocoa – No cocoa on hand? Swap it with carob powder for a chocolate-like taste.
Oatmeal – Rolled oats work well, or if you're looking for a gluten-free option, try quinoa flakes.
No Added Sugar Chocolate – Opt for dark chocolate with a higher cocoa percentage for a less sweet but rich chocolate flavor.
Sunflower Oil – Any neutral-flavored oil like canola or vegetable oil can be used.
Chopped Nuts – If you have allergies or prefer a different texture, try toasted coconut flakes or seeds like pumpkin or sunflower seeds.
Now you have some fantastic options to create your perfect No Bake Banana Cake, tailored to your taste and dietary preferences!
Variations
Nutty Bliss: Incorporate chopped nuts like walnuts or pecans into the batter. They'll bring a delightful crunch and nutty flavor to your cake.
Berry Bonanza: Introduce a burst of freshness by layering your cake with sliced strawberries, blueberries, or raspberries. The fruity goodness complements the bananas perfectly.
Creamy Caramel: Drizzle caramel sauce over your banana cake layers. The sweet and buttery caramel pairs wonderfully with the banana's natural sweetness.
Spiced Sensation: Add a dash of cinnamon or nutmeg to your banana cake mixture for a warm and comforting spice flavor.
Tropical Twist: Mix in some crushed pineapple and shredded coconut for a tropical banana cake experience that'll transport your taste buds to paradise.
Zesty Citrus: Elevate the cake's flavor with a touch of citrus. Lemon or orange zest can brighten up the banana's richness.
Give These a Try!
2 Ingredient No Bake Chocolate Banana Cake, by Kirbie's Cravings
Banana Upside Down Cake in a Frying Pan, by My Gorgeous Recipes
Surprise Banana Cake, by All Recipes
How to make this recipe
Step 1: Prepare the Banana Mixture Mash the ripe bananas in a large mixing bowl until they are smooth and free of lumps. Add the ground cinnamon, cocoa powder, and oatmeal to the mashed bananas, and mix everything together until well combined.
Step 2 : Layer the cake Press half of the banana-oat mixture into the cake pan, using a spatula or your hands to smooth the surface and pack it down. Add a layer of sliced bananas, then cover it with the rest of the oat mixture.
Step 3 : Decorate the cake Melt unsweetened chocolate, pour it over the top, and spread it evenly. Sprinkle chopped nuts on top if desired. Cover the cake pan with plastic wrap, and refrigerate it for at least 2 hours until it's firm.
Step 4 : Serve When you're ready to serve, let it sit at room temperature for 10-15 minutes to soften slightly. Enjoy!
Leftovers
Once you've whipped up your delicious vegan no-bake banana cake, it's essential to store it correctly to keep it tasting fresh. Pop it into an airtight container or wrap it in plastic wrap. Then, place it in the fridge to chill. This will help your cake stay moist and scrumptious for up to 4-5 days. If you're planning to enjoy it later, you can even freeze slices for a future sweet treat. Just make sure to seal them well in freezer bags or containers, and they'll keep their yummy taste for a couple of months. So, whether it's for a special occasion or a quick snack, your vegan banana cake will be ready to enjoy whenever you crave it!
Recipe FAQs
You might also like
Have you given the No-Bake Banana Cake recipe a try? Share your experience by rating it ⭐️⭐️⭐️⭐️⭐️ and dropping a comment below. Your feedback is greatly appreciated and fuels my passion for creating recipes!
No-Bake Banana Cake
A no-bake banana chocolate cake is a dessert made with mashed bananas, cocoa powder, oats, and other ingredients, that is chilled in the refrigerator rather than baked. It is a healthier alternative to traditional baked cakes, as it contains no flour or refined sugar. The cake is typically made by mixing the ingredients together, shaping it into a cake, and refrigerating for a few hours until firm. It is a delicious and easy-to-make dessert that is perfect for those who want a quick and healthy treat.
Equipment
1 chopping board or a food processor

1 cake ring

1 bowl

1 large plate
Ingredients
5

ripe bananas

1

tsp

ground cinnamon

optional

30

g

cocoa 2 tablespoons

250

g

oatmeal 3 cups

100

g

chocolate

without sugar

1

teaspoon

of sunflower oil
To decorate
chopped nuts ( I used almonds)

optional
Instructions
Start by mashing 4 bananas in a large mixing bowl until they're smooth and free of lumps.

Add ground cinnamon, cocoa powder, and oatmeal to the mashed bananas. Mix everything thoroughly until well combined.

Prepare a 15 cm wide cake ring. Grease the sides with cooking oil and place it on a plate.

Take half of the banana-oat mixture and press it into the cake ring, smoothing the surface with a spatula or your hands. Layer sliced bananas on top and cover them with the remaining oat mixture, pressing gently.

Roughly chop the chocolate and melt it in a bowl over boiling water, stirring until it's completely smooth.

Pour the melted chocolate over the banana cake, using a spatula to spread it evenly and cover the entire surface.

If you'd like to add nuts, blend them or chop them roughly. Sprinkle the chopped nuts on top of the chocolate, if desired.

Pop the cake into the refrigerator for a minimum of 2 hours, allowing it to firm up.

When it's time to serve, take the cake out of the refrigerator and let it sit at room temperature for about 10-15 minutes to soften slightly.

Finally, slice the cake and serve your delicious creation. Enjoy!
Notes
Step-by-Step Guide: For the full recipe and step-by-step instructions, head over to my blog. You'll find detailed explanations and helpful photos to guide you through this delightful no-bake adventure. Customize to Your Liking: I've got some excellent substitutions and twists listed in the post. You can tailor the cake to your taste, making it even more scrumptious. Storage Tips: Your vegan no-bake banana cake will keep well in the fridge for up to a day. But trust me, it's at its best when freshly made. Tip 1: When picking your bananas, make sure they're nice and ripe for that natural sweetness. Tip 2: Don't forget to properly mix your ingredients to ensure that your cake is bursting with flavor. Tip 3: Here's a handy trick – a splash of lemon juice on the banana slices keeps them looking fresh and vibrant.