Easy Pancetta and Zucchini Pasta
This Pancetta and Zucchini Orzo Pasta recipe is a delicious and easy-to-make meal that combines savory pancetta with fresh zucchini and orzo pasta.
This post contains links to affiliate websites, such as Amazon, and we receive an affiliate commission for any purchases made by you using these links. We appreciate your support!
Indulge in a mouthwatering dish of pancetta and zucchini orzo pasta. This easy-to-make recipe combines the savory taste of pancetta with the freshness of zucchini for a deliciously satisfying meal. Perfect for a cozy night in or a dinner party with friends.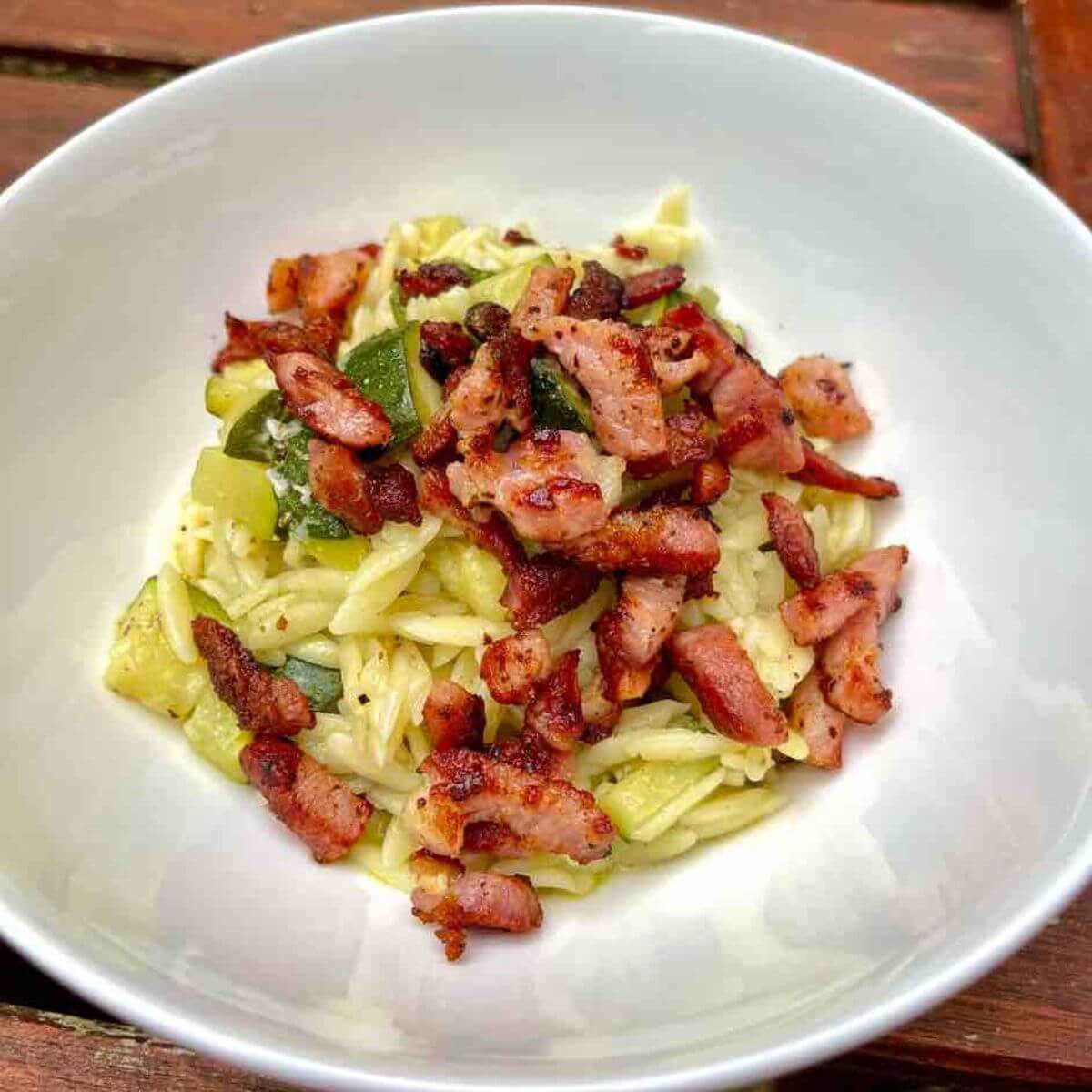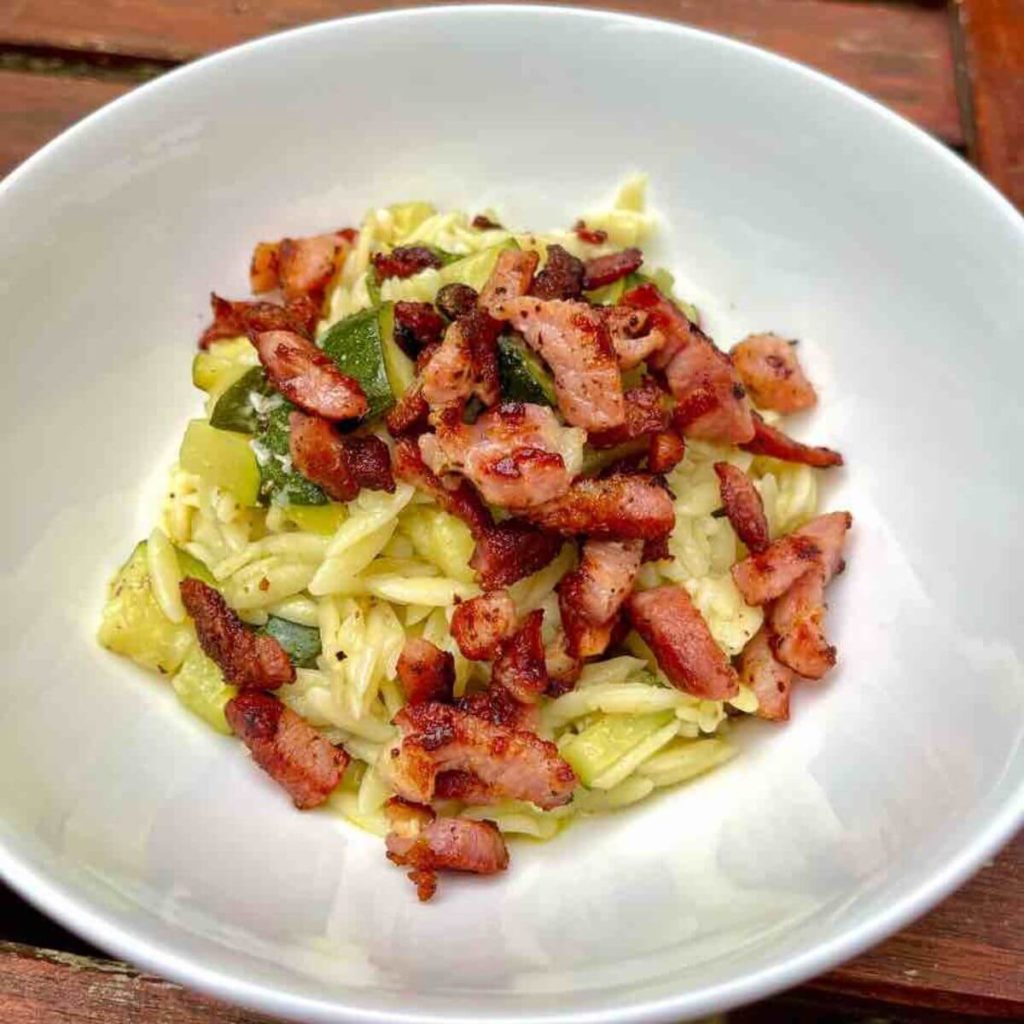 Learn how to make Easy Pancetta and Zucchini Pasta! This simple recipe combines crispy pancetta and flavorful zucchini with pasta for a delicious meal. Follow the easy steps and enjoy a tasty dinner in no time!
Ingredients
In this Easy Pancetta and Zucchini Pasta recipe, you'll need the following ingredients: orzo pasta, diced Pancetta, garlic cloves (grated or chopped), extra virgin olive oil, diced courgettes, diced medium onion, vegetable/chicken stock cube, salt, pepper, basil, grated parmesan (to serve), and chili flakes (to serve).
How to make it?
First, heat the olive oil in a big pan on medium-high heat. Add the chopped garlic and cook for one minute.
Next, dice the zucchinis and onion on a cutting board and put them in the pan. Cook for 5 minutes.
Add the orzo pasta and 800 ml of hot water with vegetable stock. Let it simmer for 10-15 minutes with the lid on, stirring sometimes.
While that's cooking, put the pancetta in another pan and cook it until it turns brown and crispy. Stir it often so it cooks evenly. Set it aside for later.
After the pasta is done, season it with salt and pepper. Then, add basil and mix it all together.
Put the pasta into bowls and drizzle some olive oil on top. Add grated parmesan and a few chili flakes if you like it spicy. Finally, add the pancetta on top.
Serve it while it's hot, and enjoy this tasty dish that's perfect for using up summer zucchini. The salty pancetta makes it even more delicious!
Here are just a few reasons for why you'll love this Easy Pancetta and Zucchini Pasta
There are so many reasons to love this Easy Pancetta and Zucchini Pasta recipe! Here are just a few:
Delicious Flavors:
The crispy pancetta and flavorful zucchini come together to create a tasty combination that will make your taste buds dance with delight.
Simple to Make:
This recipe is easy to follow, making it perfect for beginners in the kitchen. With a few basic steps, you'll have a delicious meal ready in no time.
Versatile Dish:
You can enjoy this pasta dish as a satisfying main course or serve it as a tasty side dish alongside your favorite protein.
Nutritious Ingredients:
Zucchini adds a dose of vitamins and minerals to the dish, making it a healthier choice. Plus, the whole family can enjoy it!
Customizable:
Feel free to add your own twist to the recipe by incorporating different herbs or spices that you love. Make it your own!
Recipe variations to explore
Once you've mastered the Easy Pancetta and Zucchini Pasta recipe, you can try some exciting variations to create different flavors. Here are some ideas to explore:
Creamy Delight: Add a splash of heavy cream or a dollop of cream cheese to the pasta while sautéing the zucchini. This will give the dish a rich and creamy texture.
Herb Infusion: Experiment with different herbs like thyme, rosemary, or oregano to enhance the pasta's taste. Sprinkle the herbs on top or stir them in while cooking.
Veggie Twist: Include other colorful vegetables like cherry tomatoes, bell peppers, or spinach to add extra nutrients and vibrant colors to your pasta.
Lemon Zing: Squeeze some fresh lemon juice over the pasta just before serving to give it a zesty and refreshing twist.
Pesto Passion: Mix in a spoonful of basil pesto to the cooked pasta for an aromatic and flavorful variation.
Cheesy Burst: Add shredded mozzarella or creamy goat cheese to the pasta and let it melt for a cheesy delight.
Spicy Kick: If you enjoy a bit of heat, sprinkle red pepper flakes or chili powder over the pasta for a spicy kick.
Other easy recipes to inspire you
---
Are you ready to take your culinary skills to the next level? Then come join me in the kitchen and let's whip up some delicious meals together! From mouth-watering appetizers to decadent desserts, my food blog has it all.
But don't just take my word for it – try out some of my recipes for yourself and taste the magic. Whether you're a beginner cook or a seasoned pro, there's something here for everyone. So what are you waiting for? Let's get cooking!
---
Before we get to the bits and bobs of making this wonderful cake – if you like what you're seeing,
subscribe to my newsletter here to keep up to date on the latest recipes and tips!
Italian-Inspired Pancetta and Zucchini Pasta Dish
Pancetta and zucchini pasta is a delicious Italian dish made with crispy pancetta, sautéed zucchini, garlic, and red pepper flakes tossed with spaghetti or other pasta. This easy-to-make recipe is perfect for a quick weeknight dinner and is packed with savory flavors that will leave you wanting more.
Equipment
1 Skillet or frying pan, medium

To cook the pancetta and sauté the zucchini.

1 Skillet or frying pan, small

1 Wooden spoon or spatula

To stir and mix the ingredients while cooking.

1 Cutting board and knife

To chop the pancetta and zucchini.

1 Grater

To grate the Parmesan cheese.

1 Garlic press (optional)

To mince garlic cloves, if using.
Ingredients
500

g

orzo pasta

150

g

diced Pancetta

3-4

garlic cloves

grated or chopped

2-3

tbsp

olive oil

extra virgin

2

courgettes

diced

1

medium onion

diced

1

cube vegetable/chicken stock

salt

pepper

basil

100

g

grated parmesan

to serve

chilli flakes

to serve
Instructions
Heat the olive oil in a large skillet over medium-high heat, toss the garlic and fry for 1 minute.

Dice your zucchinis and onion on a chopping board and add them to the pan. Cook for 5 minutes.

Add orzo pasta and 800 ml hot water + vegetable stock. Simmer for 10-15 minutes with the lid on, stirring occasionally.

In the meantime add pancetta to a pan and cook until browned and crunchy. Make sure to toss them for an uniform grilling. Set aside until used.

Season with salt and pepper, then add your basil and stir to combine.

Spoon into bowls and add a drizzle of olive oil, grated parmesan and some chilli flakes if desired. Finish by adding the pancetta on top. Serve while hot and enjoy.

This recipe is a delicious way to use up summer zucchini, and the salty pancetta adds tons of flavor to the dish. Enjoy!
Notes
You can use bacon instead of pancetta if you prefer.
You can also add other vegetables to this dish, such as cherry tomatoes, bell peppers, or mushrooms.
This dish can be made ahead of time and stored in the refrigerator for up to 3 days. Reheat in the microwave or on the stovetop before serving.
🍽️ Join the Feast! Let's Connect, Share, and Savor Together! 🌟
Welcome to our foodie haven, where culinary delights await at every turn! We're not just here to tantalize your taste buds; we want to build a vibrant community that celebrates the joy of cooking, indulging, and discovering new flavors. That's why we invite you to become an active part of our food blog family!
Have a question about a recipe?
Craving a specific dish? Curious about the latest food trends? Our comments section is the perfect place to dive into discussions and seek answers from fellow food enthusiasts. Share your thoughts, exchange tips and tricks, or simply express your appreciation for a mouthwatering creation. We love hearing from you!
Don't stop at the comments section
Subscribe to our newsletter and unlock a treasure trove of culinary inspiration! Be the first to receive exclusive recipes, cooking hacks, and behind-the-scenes glimpses into our kitchen adventures. Our newsletter is your backstage pass to the flavorsome world we've crafted just for you.
Hungry for more?
Follow us on social media for a daily dose of deliciousness. Get ready for drool-worthy food photos, sneak peeks of upcoming recipes, and foodie-centric discussions that will leave you hungry for seconds. Whether you're a fan of Instagram, Twitter, or Facebook, we're there to feed your appetite for culinary inspiration.
Feeling generous?
Share our content with your friends and family! Let's spread the love for good food far and wide. Who knows, your share might just inspire someone else to discover their inner chef or explore a new flavor combination. Together, we can create a community that celebrates the magic of food and the connections it brings.
So, join us on this delectable journey. Interact with our content, comment, subscribe, and follow us on social media. Let's forge lasting bonds over shared recipes, food stories, and the simple pleasure of a well-cooked meal. We can't wait to welcome you into our foodie family!
Remember, the kitchen is a place where delicious memories are made, and together, we can turn every meal into a masterpiece. Cheers to good food, delightful conversations, and the joy of cooking!
Stay hungry, stay inspired,