How to make Phyllo Crinkle Cake
This dessert is super simple to make and only comprises easy-to-find ingredients. You don't have to be a baker to pull off this stunning Crinkle Cake.
This post contains links to affiliate websites, such as Amazon, and we receive an affiliate commission for any purchases made by you using these links. We appreciate your support!
Delicious Phyllo Crinkle Cake Recipe – A Super Easy Dessert!
If you're looking for a yummy and super easy dessert, you've come to the right place! Our Phyllo Crinkle Cake is a delightful treat that you can make in no time. This dessert is perfect for satisfying your sweet tooth with minimal effort. With layers of crispy phyllo dough and a sweet, gooey center, it's a dessert that everyone will love.
No baking skills needed for this one – just a few simple steps, and you'll have a fabulous dessert ready to impress your friends and family. We'll guide you through the process of creating this mouthwatering Phyllo Crinkle Cake step by step. It's the perfect choice for a quick, delicious treat. Give it a try today!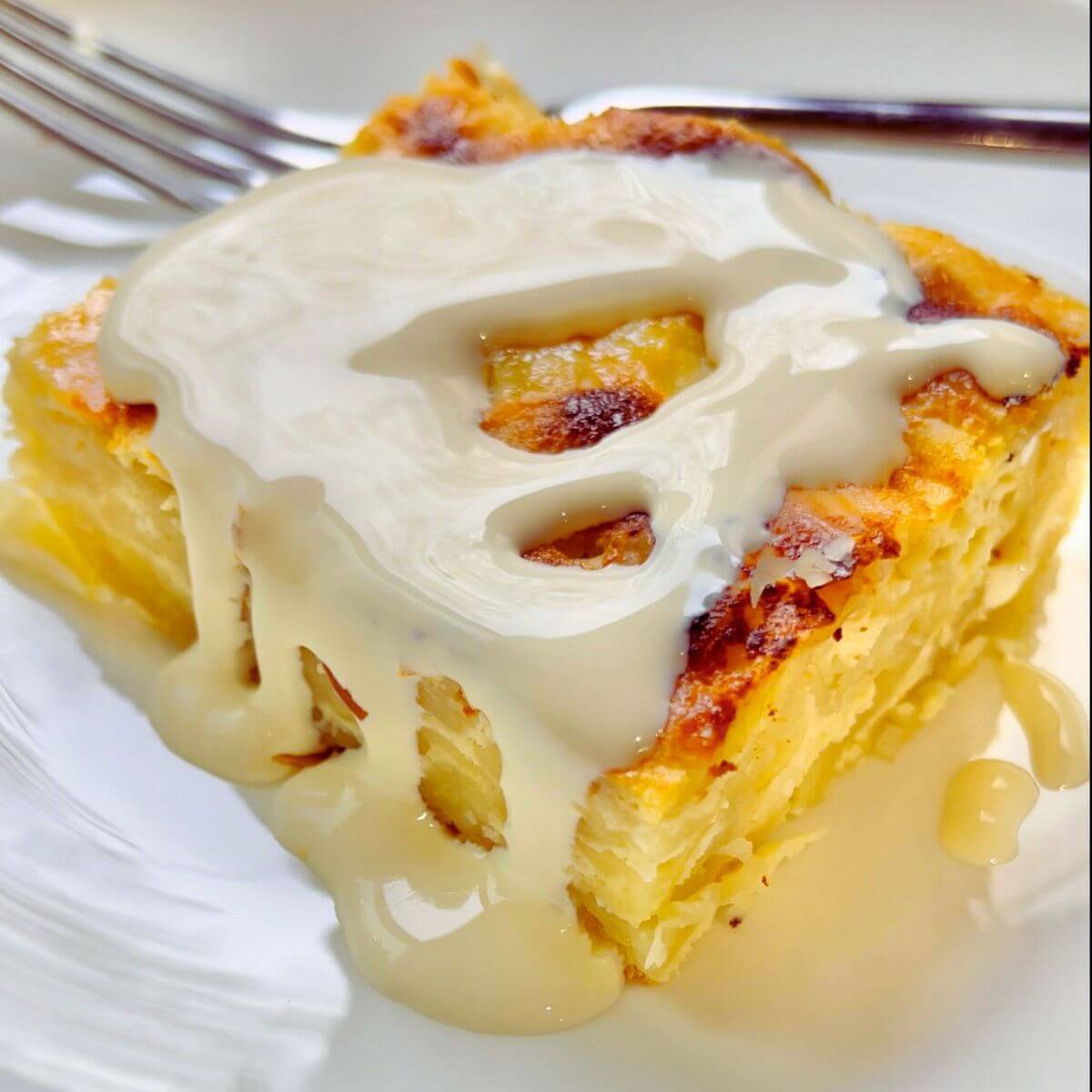 Why this recipe works
Why this Crinkle Cake rocks? It's pure magic! Layers of crispy phyllo dough, creamy ricotta (or curd cheese), and sweet yogurt create a delightful combo. Baking makes it golden and delicious, and melted butter adds extra yum. A dollop of double cream takes it to dreamy heights. Perfect for celebrations and a breeze to make. The result? A tasty, beautiful dessert your taste buds will adore!
Ingredients to make Crinkle Cake
Phyllo Sheets (Defrosted): These are like thin pastry sheets that add a wonderful crunch to the cake.
Melted Salt-Free Butter: Butter gives a rich and buttery flavor to the cake without the extra salt.
Plain Yogurt: Creamy yogurt adds moisture and a hint of tanginess to the cake.
Ricotta or Curd Cheese: Creamy cheese that brings a delightful richness to the cake.
Eggs: Eggs help bind everything together and give structure to the cake.
Demerara Sugar: Sweet sugar for that perfect sweetness.
Vanilla Extract: A touch of vanilla adds a lovely flavor to the cake.
Double Cream (To Serve): Cream to make the cake even more indulgent.
Substitutions
Phyllo Sheets: If you can't find phyllo sheets, you could swap them for puff pastry or even croissant dough for a different twist.
Butter: For a healthier option, you can use unsalted butter or a dairy-free alternative like margarine.
Plain Yogurt: If you're out of plain yogurt, Greek yogurt works perfectly or even a dairy-free yogurt if you prefer.
Ricotta or Curd Cheese: Exchange ricotta with cottage cheese for a similar creamy texture, or go dairy-free with almond or tofu-based alternatives.
Eggs: To make it egg-free, try using mashed bananas or applesauce for binding.
Demerara Sugar: Light brown sugar is a great substitute, and honey or maple syrup can add a unique sweetness.
Vanilla Extract: Almond extract or even a pinch of cinnamon can bring a different flavor twist.
Double Cream: Swap it with whipped coconut cream for a dairy-free choice or Greek yogurt for a tangy note.
These substitutions will help you adapt the Crinkle Cake to your preferences or ingredient availability while still enjoying a scrumptious treat.
Variations
Chocolate Lovers' Crinkle Cake:

Add cocoa powder to the filling for a rich chocolate flavor.
Sprinkle chocolate chips or chunks between the layers.

Fruit Delight Crinkle Cake:

Layer slices of your favorite fruits like strawberries, peaches, or apples.
Add a touch of cinnamon for extra flavor.

Nutty Surprise Crinkle Cake:

Incorporate chopped nuts like walnuts or almonds into the filling.
Drizzle with honey or caramel for sweetness.

Citrus Zest Crinkle Cake:

Grate orange or lemon zest into the filling for a refreshing twist.
Squeeze a bit of citrus juice for a tangy kick.

Spiced Sensation Crinkle Cake:

Add ground cinnamon, nutmeg, or cardamom to the filling for a warm, spiced flavor.
Top with a dusting of powdered sugar.

Berry Bliss Crinkle Cake:

Layer fresh berries like blueberries, raspberries, or blackberries for a fruity burst.
A drizzle of berry compote on top is heavenly.

Savory Spin Crinkle Cake:

Use savory ingredients like feta cheese, spinach, and sun-dried tomatoes for a unique twist.
Season with herbs like basil or oregano.

Nutella Indulgence Crinkle Cake:

Swirl Nutella or hazelnut spread between the layers for a creamy, chocolate-hazelnut treat.

Caramel Crunch Crinkle Cake:

Drizzle caramel sauce and sprinkle with crushed toffee or caramelized nuts for a sweet and crunchy delight.

Holiday Spice Crinkle Cake:

Add seasonal spices like pumpkin spice or gingerbread spices for a festive touch.
Decorate with a dusting of powdered sugar and festive sprinkles.
Give These a Try!
Crinkle Cake, by Ministry of Curry
Blueberries & Cream Crinkle Cake, by Dimitra's Dishes
How to make this recipe
Step 1: Lay the crinkled dough in the baking pan with the folds facing up. Drizzle melted butter evenly over the dough.
Step 2: In a large bowl, combine eggs, sugar, ricotta (or curd cheese), yogurt, and vanilla extract to create the filling.
Step 3 : Pour this filling evenly over the dough and sprinkle some more butter.
Step 4: Bake for 30-40 minutes until it's wonderfully crispy and golden.
Leftovers
Got some Crinkle Cake left? Store it smart! Slice, seal, and pop in the fridge for 3-4 days. Or freeze for later delight. Thaw, and enjoy the magic anytime.
Recipe FAQs
You might also like
Have you given the Phyllo Crinkle Cake recipe a try? Share your experience by rating it ⭐️⭐️⭐️⭐️⭐️ and dropping a comment below. Your feedback is greatly appreciated and fuels my passion for creating recipes!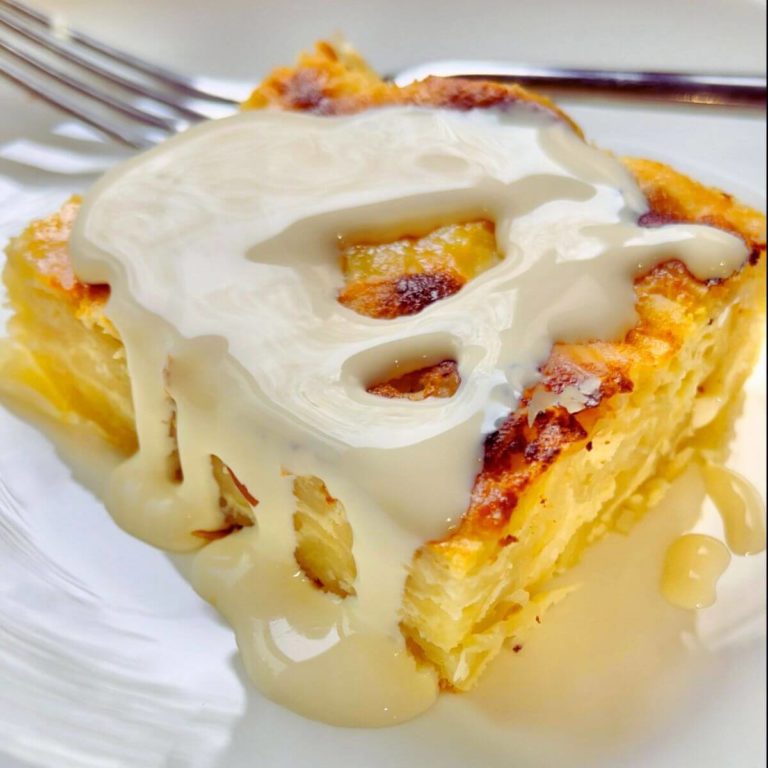 Let's make Phyllo Crinkle Cake (Muakacha)
This dessert is super simple to make and only comprises easy-to-find ingredients. You don't have to be a baker to pull off this stunning Crinkle Cake.
Equipment
1 balloon whisk or hand mixer

1 bowl

1 baking pan

32 cm x 27 cm
Ingredients
1

package phyllo dough

defrosted

100

gr

of butter melted

salt free

500

gr

plain yogurt

or greek

250

gr

ricotta

or curd cheese

3

large eggs

100

gr

sugar

demerara

2

tsp

vanilla extract
Instructions
Heat your oven to 180°C (356°F) or Gas Mark 4. Grease a baking tray that's about 32 cm x 27 cm with butter.

Put the crinkled dough into the baking pan, with the folds facing up.

Carefully pour melted butter all over the top.

Now, for the filling! In a big bowl, mix eggs, sugar, ricotta, yogurt, and vanilla extract together.

Pour this yummy filling evenly over the folded dough.

Pop it in the oven and bake for 30-40 minutes until it's crispy and golden. For some extra deliciousness, drizzle more butter on top. 😋
Notes
Step-by-Step Guide: You'll discover a fantastic step-by-step guide with clear photos on my blog to create this amazing Crinkle Cake.  Substitutions & Twists: I've shared some cool ways to change things up in the post above, so you can make this cake uniquely yours. Storage: Your Crinkle Cake can chill in the fridge for up to 3-4 days, but it's at its yummiest when it's fresh out of the oven. Tip 1: When you put them in the pan, make sure they stand tall, not flat. It makes the cake light, puffy, and yummy. Tip 2: Use a spatula to take the cake out of the pan gently. Tip 3: This cake loves a drizzle of double cream, homemade custard, or pudding.