Chickpea Ratatouille: A Delicious Vegan Dish
Discover a tasty twist on classic ratatouille with our Chickpea Ratatouille. Packed with flavor, it's a delicious and healthy meal option. Try it today!
This post contains links to affiliate websites, such as Amazon, and we receive an affiliate commission for any purchases made by you using these links. We appreciate your support!
Looking for a delicious and healthy plant-based meal? Try this Chickpea Ratatouille recipe! Packed with flavorful veggies and protein-rich chickpeas, this dish is perfect for a hearty lunch or dinner. Plus, it's easy to make and can be customized to your taste preferences.
Savour this traditional Ratatouille, a colourful and savoury dish that will take you right to the French countryside. Enjoy the finest of summer veggies in a tasty and nutritious dish that is loaded with fresh vegetables and herbs.
---
Try this vegan dish next
---
---
Why this recipe works
This delectable Mediterranean-inspired vegetable stew makes an ideal choice for a nutritious dinner in the middle of the week. Ratatouille, a delightful and vibrant summer vegetable stew, is a classic dish filled with rich olive oil, fragrant garlic, and aromatic herbs.
This Ratatouille recipe is a delight that works like a charm for several reasons. Its perfect combination of fresh and vibrant vegetables, like eggplant, zucchini, chickpeas, and tomatoes, creates a harmonious blend of flavors. Grilling brings the ingredients together, creating a flavorful and robust stew. Plus, it's a super-healthy option for a midweek supper, making it a top choice for those seeking nutritious and delicious dishes.
---
Ingredients to make Easy Ratatouille
Produce: To create this delightful ratatouille, choose the freshest seasonal produce available. Look for top-notch aubergine (eggplant), courgette (zucchini), vibrant red and yellow peppers, onions, garlic cloves, and ripe tomatoes. These ingredients are the key to making this dish extraordinary.
Seasonings: Elevate the flavors with a touch of olive oil, smoked paprika, and tomato paste. These seasonings infuse the dish with a delightful aroma, making it irresistible.
Extras: Don't forget to include a tin of chopped tomatoes and a tin of chickpeas for a unique twist. To add a final burst of freshness, garnish with chopped fresh coriander, parsley, and garlic cloves.
---
Substitutions
For making French Ratatouille, there are some great substitutions you can try using common ingredients.
If you don't have aubergine, you can use zucchini instead. For red and yellow peppers, any bell peppers work.
If you're out of olive oil, you can use vegetable oil as a substitute. In case you're missing onion, shallots can be a good alternative.
Smoked paprika can be replaced with regular paprika. And if you don't have tomato paste, just use extra chopped tomatoes.
Instead of chickpeas, try cannellini beans or lentils.
Fresh coriander and parsley can be swapped with dried herbs.
And if you're running low on garlic cloves, garlic powder or granules will do the job.
These substitutions will help you make a delicious Easy Ratatouille using what you have on hand, and they can be a great way to experiment with different flavors and textures in this Mediterranean-inspired dish.
---
Variations
Enhance your Ratatouille with creative twists and flavors:
Provencal Herbs: Sprinkle dried herbs like thyme, rosemary, and oregano for a touch of Provencal charm.
Spicy Kick: Add red pepper flakes or a dash of cayenne pepper if you crave some heat.
Cheesy Delight: Grate some Parmesan or sprinkle feta on top for a savory, cheesy finish.
Protein Power: Incorporate beans like chickpeas, or for a meaty twist, add cooked sausage or diced chicken.
Zesty Citrus: A squeeze of fresh lemon juice or zest can add a zingy, refreshing dimension.
Rustic Bread: Serve your Ratatouille over crusty bread or baguette slices for a rustic meal.
Rich Tomato: Experiment with different types of tomatoes like cherry or heirloom for varied flavors.
Nutty Crunch: Top with toasted pine nuts or almonds for added texture.
Garlic Lovers: Infuse more garlic for an aromatic and robust profile.
Mediterranean Medley: Serve alongside couscous or quinoa for a Mediterranean feast.
---
How to make this recipe
Step 1 : Preheat your oven to 220°C. Cube vegetables like eggplant, zucchini, and bell peppers, then toss in olive oil, salt, and pepper. Roast under the grill for 15-20 mins until roasted. Set aside for later use.
Step 2: As the veggies roast, warm olive oil in a medium pan over medium heat. Sauté diced onions for 2-4 minutes until they turn translucent. Then, mix in paprika, garlic, herbs, tomato paste, and chopped tomatoes for a flavorful base.
Step 3: Allow the mixture to simmer for approximately 10 minutes, giving it an occasional stir. This will result in a thickened tomato sauce and well-blended flavors.
Step 4: After 10 minutes, include the chickpeas in the pan.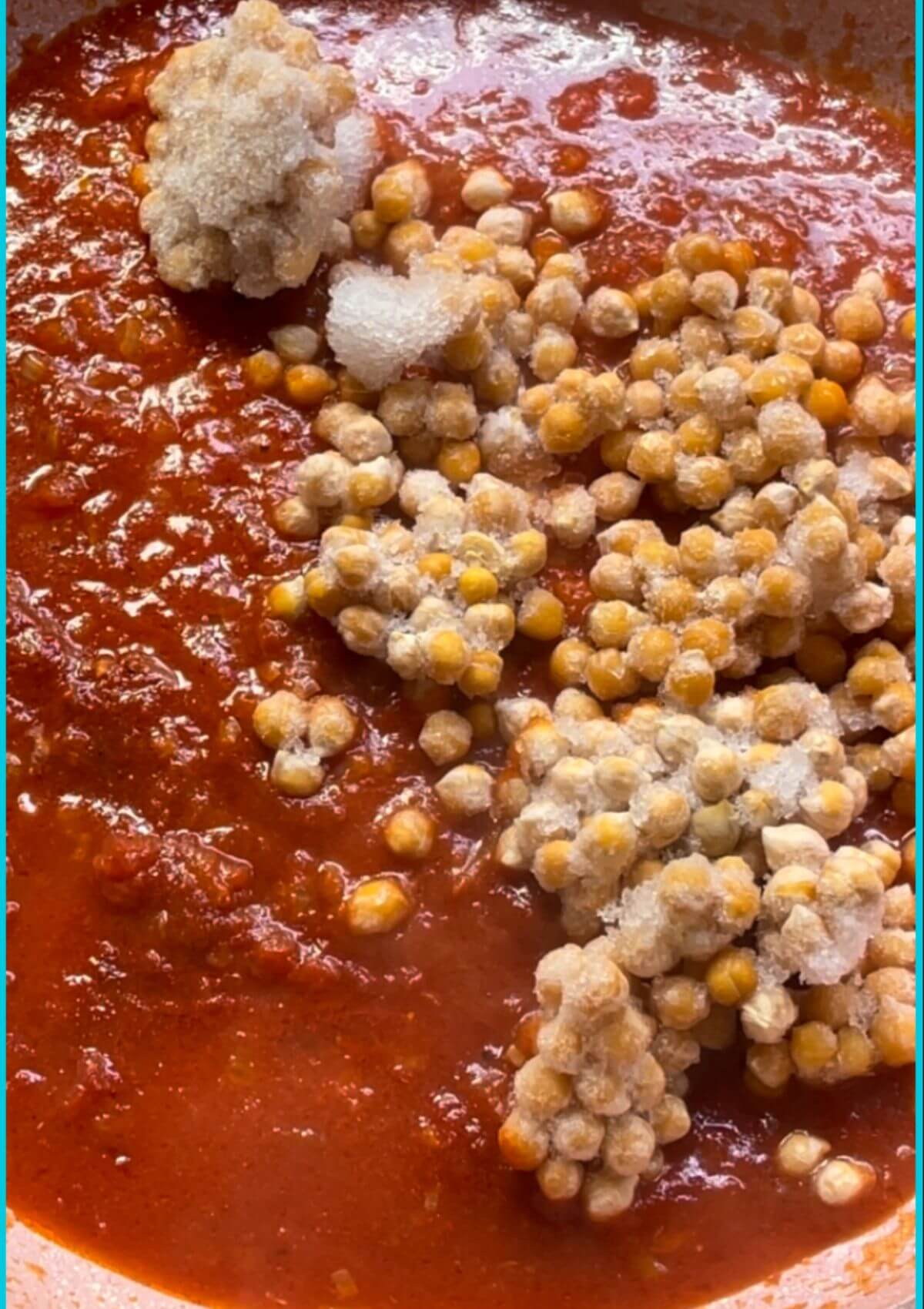 Step 5: Now, add the roasted vegetables to the pan and give it a good stir. Let everything cook together for another 5 minutes. This helps the flavors blend and makes sure everything is heated through.
Garnish : To finish your dish, simply sprinkle freshly chopped coriander and parsley over it. Don't forget to grate two cloves of garlic and add them for extra flavor. These final touches will enhance your recipe, making it even more delicious and flavorful.
Serve: To enjoy this meal, you can serve it with pita bread, whole wheat wrap, freshly baked focaccia or your favorite bread. It's also delicious with chicken skewers if you want meat. Or, just savor it alone for a yummy and healthy vegetarian dish.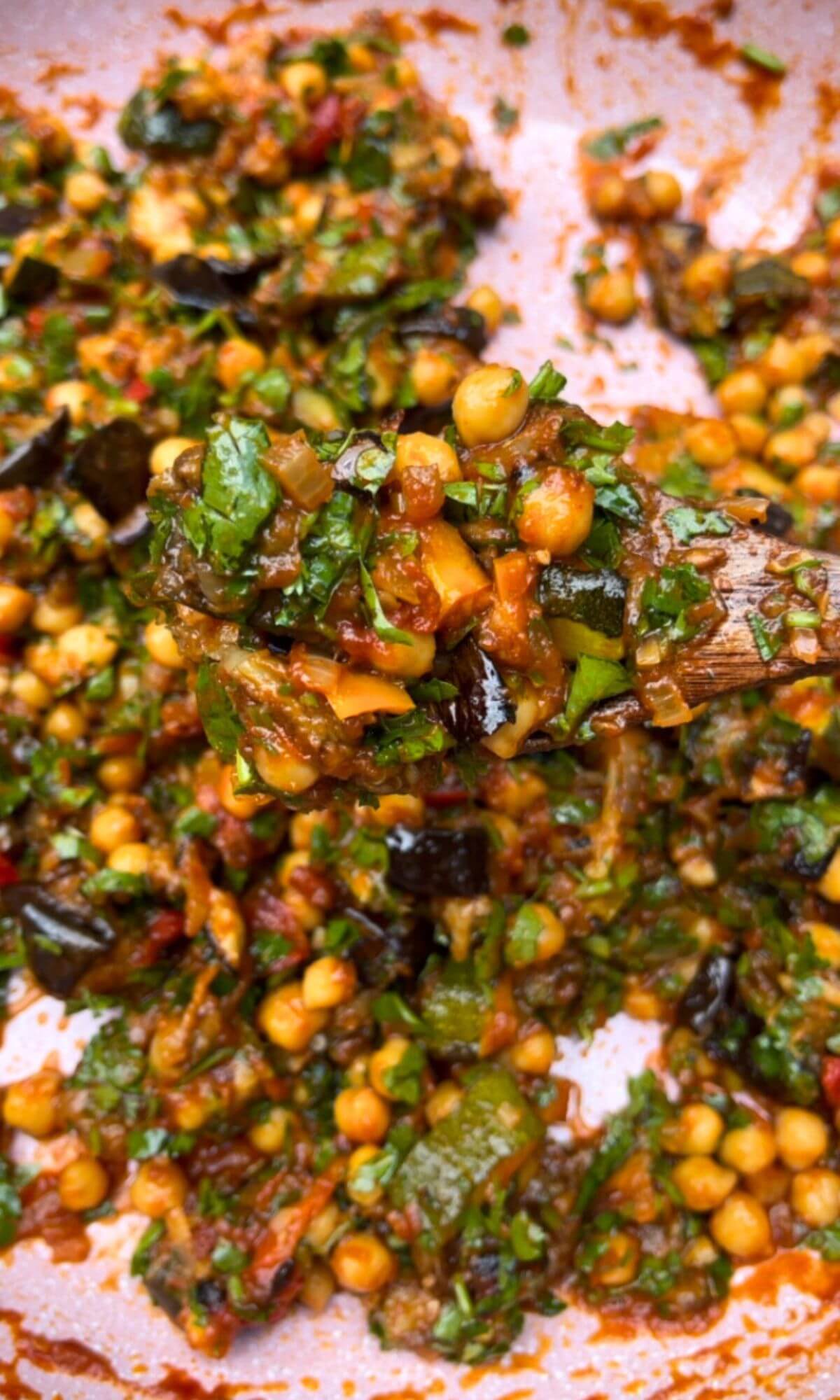 ---
Leftovers
When you have some Chickpea Ratatouille left, don't worry – it's a fantastic dish for leftovers. Just pop it in an airtight container and store it in the fridge for up to 3 days. When you're ready for another serving, reheat it in the microwave or on the stovetop. It's as delicious as when it's fresh, and you're helping reduce food waste too!
If you find yourself with extra Chickpea Ratatouille, don't fret. You've got a tasty canvas for more delicious meals. Try these ideas:
Pasta Partner: Mix it with cooked pasta, a drizzle of olive oil, and some Parmesan cheese for a quick and satisfying pasta dish.
Stuffed Delight: Use it as a stuffing for roasted bell peppers or zucchinis, top with cheese, and bake until bubbly.
Brunch Brilliance: Spoon it onto toast or a tortilla, add a fried or poached egg, and you've got a scrumptious brunch.
Grain Bowl: Pair it with cooked quinoa, rice, or couscous for a hearty grain bowl. Top with fresh herbs and a squeeze of lemon.
Pizza Topper: Spread it on pizza dough, sprinkle with mozzarella, and bake for a unique pizza experience.
Wrap it Up: Fill tortillas with leftover Ratatouille, add your choice of protein, and create flavorful wraps.
Soup Sensation: Blend it with broth and seasonings for a rich and hearty soup.
Baked Potato Boost: Spoon it over a baked potato, top with sour cream and chives for a comforting meal.
Leftovers are your kitchen's hidden treasures. With a little creativity, you can transform your Chickpea Ratatouille into exciting new dishes.
---
Recipe FAQs
You might also like
---
---
Have you given the Chickpea Ratatouille recipe a try? Share your experience by rating it ⭐️⭐️⭐️⭐️⭐️ and dropping a comment below. Your feedback is greatly appreciated and fuels my passion for creating recipes!
---
Subscribe to our newsletter!
---
Chickpea Ratatouille: A Delicious Twist on a Classic Dish
Chickpea ratatouille is a vegan variation of the traditional French ratatouille dish, which typically consists of stewed vegetables like eggplant, zucchini, bell peppers, and tomatoes. In the chickpea version, the dish is made heartier by adding protein-rich chickpeas, and it can be served as a main course or a side dish. The vegetables are usually chopped and cooked together with garlic, herbs, and olive oil until tender and flavorful.
Equipment
Cutting board

Knife

Skillet or Saute Pan

Wooden spoon or spatula

Baking Dish

Oven

Can Opener

Serving Dish
Ingredients
1

aubergine

1

courgette

1

red pepper

1

yellow pepper

olive oil

1

onion

1

tsp

smoked paprika

1

tbsp

tomato paste

400g

tin of chopped tomatoes

400g

tin of chickpeas

30g

fresh coriander and parsley

chopped

2

garlic cloves

finely chopped
Instructions
To begin, preheat your oven to 220°C. Then, take your vegetables, such as eggplant, zucchini, and bell peppers, and cut them into small cubes measuring 2-3 cm. Once cut, place them in a baking tray, drizzle with olive oil, add salt and pepper to taste, and toss everything together until the vegetables are coated evenly with the oil and seasoning.

Now, it's time to roast the vegetables! Use the grill setting on your oven and let them cook for about 15-20 minutes or until they're slightly charred and crispy on the outside. Once done, take the baking tray out of the oven and set it aside for later use.

While the vegetables are roasting, heat some olive oil in a pan over medium heat. Once hot, add chopped onions and fry them for 2-4 minutes until they become translucent. Next, stir in paprika, garlic, herbs, tomato paste, and chopped tomatoes. Let everything simmer for 10 minutes, stirring occasionally, until the tomato sauce has thickened and the flavors have melded together.

When the 10 minutes are up, add chickpeas and roasted vegetables into the pan. Stir everything together to combine and let everything cook together for an additional 5 minutes. This will allow the flavors to meld even more and ensure that everything is heated through.

To serve, you can pair this dish with pita bread, slightly grilled whole wheat wrap, or any bread of your choice. It also pairs well with chicken skewers if you're looking for a meatier option. Or, simply enjoy it on its own for a tasty and nutritious vegetarian meal. We hope you enjoy making and eating this recipe as much as we do!
Notes
You can use any combination of vegetables you like in this recipe. Some other great options include mushrooms, carrots, or sweet potatoes.
You can also add some protein to this dish by including diced chicken or tofu in step 3, after the onions. Just prolong the cooking time at this stage with 15 minutes. 
This dish can be served over rice or quinoa for a more filling meal.